Open lifts
8:30 a.m.: Gondola and Christie Peak Express
8:45 a.m.: Burgess Creek and Four Points
9 a.m.: Storm Peak Express
Photo Gallery
Steamboat Ski Area Scholarship Day 2010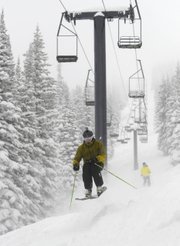 Watch TV18
Tune in to the "Steamboat Today" show from 7 to 9 a.m. on Comcast channel 18 for up-to-the-minute ski and weather information.
Keep up with the conditions
Steamboat Springs — There was a steady chorus of "woo-hoos" Wednesday at Steamboat Ski Area.
Skiers and riders were vocal all across the mountain — be it on groomed trails or through knee-deep powder — during the 20th annual Scholar­­ship Day. It also served as the first day of the 2010-11 season.
By most accounts, the conditions couldn't have been better. The National Weather Service issued a blizzard warning forecasting subzero temperatures and wind gusts as fast as 75 mph. But the blizzard conditions never materialized.
Instead, the wind was mild and the sun even peeked from behind the clouds by midmorning. And there were 7 new inches of snow.
"This is amazing," said Ran­­dy Wil­­liam­­son, who splits time between Steamboat and Fort Myers Beach, Fla., after his second run. "I skied three months last season, and this is better than any of those days. I can't believe the texture of the snow. It's so good."
"If this is what Opening Day is like, peak season is going to be epic," said Lizzy Konen, who moved to Steamboat two weeks ago.
"It's the best day ever," said Brian King, of Denver, who is visiting family this week. "Opening Day, it's unforgettable. I've lived (in Colorado) for 10 years. I ski Breck, Keystone and A-Basin. They don't hold a candle to this. This is more like midseason snow, not early season snow."
Scholarship Day benefits the Steamboat Springs Winter Sports Club. The ski area donates all proceeds from discounted lift tickets to the club that provides ski and snowboard programming and training for more than 1,000 participants — mostly youths ages 3 to 24.
Many who came out for Scholarship Day were there to support the Winter Sports Club. Season passes were not valid Wed­­nesday, so all skiers had to purchase a $30 all-mountain lift ticket or a $20 lower-mountain ticket.
"It's a great program for all the kids," said Steamboat resident Anne Lowe, whose adult children did not participate in the Winter Sports Club. "It's a signature of Steamboat."
Steamboat Ski and Resort Corp. spokesman Mike Lane said the amount of money raised for the Winter Sports Club wouldn't be available for several days. But Lane said he was optimistic about Wednesday's turnout.
"It was a good early crowd, a couple hundred people, some there as early as 5:30 (a.m.) showing enthusiasm for the start of the season," he said. "With 5 feet of powder this month and the sun popping out, I think we can expect a good turnout to support the Winter Sports Club."
Rick DeVos, executive director of the Winter Sports Club, has said that in years past, better snow conditions meant more fundraising dollars.
The new snow overnight Tuesday brought the season total to 89 inches, a November record.
Wednesday also marked the first top-to-bottom skiing on Scholarship Day since the 2004-05 season. Five lifts served 71 trails and more than 1,000 skiable acres — about 35 percent of the ski area's terrain.
DeVos said it was difficult to judge the size of Wednesday's crowd, but he was hopeful the day would be a success for the Winter Sports Club.
"It looks like it will be a strong scholarship contribution from the ski area and the locals that make this happen," he said. "Thank you for not only the ski area, but the locals and guests who came out today. They're helping a lot of families. Especially in these tough economic times, they're very appreciated."
Today is the official Opening Day at Steamboat Ski Area for season pass holders.
Open terrain
■ Green
Arc, BC Ski Way, Big Foot, Boulevard, Duster, Feather, Flat Out, Main Drag, Park Lane, Right-O-Way, So What, Southface Park, Stampede, Why Not, Yoo Hoo
■ Blue
Big Meadow, Blizzard, Buddy's Run, Calf Roper, Chisolm Trail, Dusk, Ego, Heavenly Daze, High Noon, Highline, Jess' Cut Off, Lightning, Meadow Lane, One O'Clock, Rainbow, Rudi's Run, Sitz, Skyline, Tornado Lane, Tower, Traverse, Vagabond, Vogue
■ Blue/black
Flying Z Gulch, Norther, Sunset, Surprise, Two O'Clock
■ Black
Burgess Creek Lift Line, Closet, Crowtrack, Cyclone, Drop Out, Flying Z, Four Points Lift Line, Hurricane, Kuus' Cruise, Nelson's Run, Oops, Shadows, Storm Peak Catwalk, Storm Peak North, Storm Peak South, Sundown Lift Line, The Ridge, Three O'Clock, Tornado, Triangle 3, Twilight, Twister, Typhoon, Valley View, Vertigo, Vortex, White Out
— To reach Jack Weinstein, call 871-4203 or e-mail jweinstein@steamboatpilot.com