Photo Gallery
"Crazy For You" dress rehearsal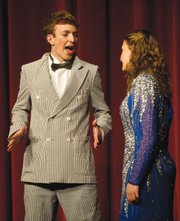 If you go
What: Steamboat Springs High School presents "Crazy For You"
When: 7 p.m. today, Friday and Saturday, 2 p.m. Saturday
Where: Steamboat Springs High School auditorium, 45 E. Maple St.
Cost: Tickets are $10 for adults, $5 for students and $3 for SSHS students with activities passes
Steamboat Springs — The fictional Deadrock, Nev., can be saved, and the performing arts might just be the thing to save it.
On the auditorium stage at Steamboat Springs High School on Tuesday evening, Justin Doerr, playing the part of Bobby Child in this year's fall musical "Crazy For You," had lofty dreams of pulling off a fantastic performance in Deadrock's defunct theater.
In the musical, stereotypical cowboys in chaps and sleekly dressed flapper girls from New York City join to bring the arts to life in the small, rural town, a blend of the best of both worlds that at times reflects reality, assistant director Kirsten Delaney said.

"It's kind of representative of Steamboat," said Delaney, a high school senior and a veteran of the drama program. "We're kind of in the middle of nowhere, and we're trying to get the arts noticed."
The musical opens at 7 p.m. today in the auditorium. Tickets are $10 for adults, $5 for students and $3 for SSHS students with an activities pass. There also will be performances at 7 p.m. Friday and Saturday and a matinee at 2 p.m. Saturday.
Third-year director Amy Pottinger said the show was a good fit for the program with its lively tone and the 1930s-era songs of Ira and George Gershwin, woven together with a modern twist by writer Ken Ludwig.
The show won a Tony Award for Best Musical in 1992. It is set around the time of the Great Depression.
Pottinger said the show presented challenges in the ragtime music style because of the upbeats and syncopation.
But the cast of 25 students got the chance to have fun with a choreography-heavy show and familiar hits such as "I've Got Rhythm."
"The characters are easy to understand," Pottinger said. "They get to have fun and be silly with them.
"It's just been a lot of fun. It's been more fun than work, and that's the entire point."
There's a lot of slapstick humor in the show, playing off stereotypes from the East Coast and the Wild West.
In the Steamboat Springs High School production, three female cast members play male cowboys to humorous perfection, and Bobby's love interest, Polly Baker, played by junior Sara Pugh, is the lone female in Deadrock.
"She's a tough cookie," Pugh said about her character. "She really has to stick up for herself. But at the end, her softer side comes out, kind of like everyone is."
At one point, Polly looks at Bobby with a scowl and asks, "Is everyone out East this stupid, or are you just special?"
But the show doesn't end with division. It ends with love and acceptance among characters once divided by status and geography.
Senior Allie Hay, who plays one of the Follies Girls, said putting on a high school production requires more teamwork than diva attitudes.
"It can bring people together that otherwise wouldn't be together," she said.
Many cast members admitted they wouldn't be hanging out with their co-stars if they were to meet them outside the auditorium. Spanning classes, interests, social groups and cliques, the cast has become a tight-knit family, spending hours together every evening, rehearsing dances and songs, humming the catchy tunes and keeping up with homework when they're not on stage.
Likewise, in the fictional production, the drunken, hooting and hollering cowboys and the prissy city girls end up getting along, understanding one another on the transcendental level of the performing arts.
"It makes you look at the bigger picture," Hay said about performing in musicals. "There's so much to learn about other people and yourself."
There's no shortage of outrageously fake gunfights and corny quips in "Crazy For You," but Hay said the real cast and the fictional cast can rise above their outward differences.
"You have the stereotypes," Hay said, "but you also have the uniqueness."
— To reach Nicole Inglis, call 871-4204 or e-mail ninglis@steamboatpilot.com