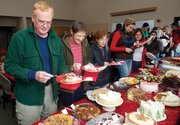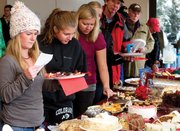 Chocolate-Hazelnut Tart with caramel and sea salt
Caroline Moon, winner of the Community Choice and Pie categories of Monday's Holiday Dessert Bake-Off
Prep Time: 15 min
Cook Time: 1 hour
Serves: 10 to 12
Filling
Ingredients
■ 1/3 cup sugar, scant
■ 4 teaspoons all-purpose flour
■ 2 eggs, beaten
■ 1 cup toasted, peeled and chopped hazelnuts
■ 2/3 cup bittersweet chocolate chips, chopped
■ 2/3 cup corn syrup, scant
■ 4 teaspoons butter, melted
■ 1/2 teaspoon vanilla extract
■ 1/8 teaspoon salt
■ 1 tart shell (see recipe below or use refrigerated pie dough)
■ caramel sundae topping
■ coarse sea salt
Directions
■ Preheat oven to 325 degrees Fahrenheit.
■ In a large bowl, mix together sugar and flour. Add eggs, hazelnuts, chocolate chips, corn syrup, butter, vanilla and salt. Stir well.
■ Pour mixture into the pie crust.
■ Bake for 1 hour.
■ Cool the tart for at least 30 minutes, then drizzle with caramel sauce and sprinkle with sea salt.
Tart Shell
Ingredients
■ 1 cup all-purpose flour
■ 2 tablespoons granulated sugar
■ 1/4 teaspoon kosher salt
■ 1 stick very cold unsalted butter, diced
■ 2 tablespoons ice water
Directions
■ Place the flour, sugar and salt in the bowl of a food processor fitted with a steel blade. Pulse a few times to combine.
■ Add the butter and pulse 12 to 15 times, or until the butter is the size of peas. With the motor running, add the ice water all at once through the feed tube. Keep hitting the pulse button to combine, but stop the machine just before the dough becomes a solid mass.
■ Turn the dough onto a well-floured board and form into a disk. Wrap with plastic and refrigerate for at least 1 hour.
■ Roll out and line tart pan.
Recipes coming soon
Stay tuned for the publication of all of Monday's Holiday Dessert Bake-Off entry recipes and photos. The winners in all six categories will be featured in the upcoming edition of At Home in Steamboat Springs magazine, hitting newsstands Nov. 28.
Steamboat Springs — Meghan McNamara wasn't deterred Sunday night when her first attempt to make a cake for this year's Holiday Dessert Bake-Off didn't go as planned.
Although the first cake stuck to the pan, her second attempt was far more successful. McNamara, a lifelong Steamboat Springs resident, won best cake honors for her almond coconut date cake at the second annual event hosted by the Steamboat Pilot & Today and sponsored by Ace at the Curve.
"It's pretty exciting," she said. "I knew I had a pretty good cake. I had some tough competition, but it's exciting to know other people enjoyed it, as well."
McNamara's cake was one of 67 entries in four categories: cakes, cookies, pies and miscellaneous. There were 56 entries in last year's inaugural event.
Steamboat TV18's Harper Louden and KBCR's Brian Harvey, along with culinary experts Lisa Ciraldo, pastry chef and owner of Chocolate Soup; Jon Demel, executive chef at the Sheraton Steamboat Resort; Kristy and Scott Fox, owners of Freshies; and Chris McKenzie, general manager and executive chef at Big House Burgers and Bottle Cap Bar and Lil' House Country Biscuits & Coffee, judged the entries based on taste and presentation.
For presentation, Ciraldo said she looked for desserts that appeared as though a lot of thought was put into them, reflected the holiday spirit and were the types of treats that one couldn't walk away from without trying first.
"That's what holiday desserts are about to me," she said. "Holidays are about indulgence and decadence."
For taste, Demel said a dessert's composition should match its type. For example, he said if something is supposed to be soft and chewy, it should be soft and chewy. He also said the desserts should have balanced flavoring.
Harvey took a different approach.
"Certainly with desserts, the large part is presentation, and then it has to taste good," he said. "Really, it's incredible. What a variety of different things. The creative talents of the valley are really shining."
Elizabeth Meissner won best presentation for her Winter Won­derland Cake. Robin Stone won best cookie for her Choc­olate Chip Meringues. Sandi Aupperle won in the miscellaneous category for her Pumpkin Satchels.
Caroline Moon won best pie for her chocolate hazelnut tart with caramel and sea salt. Moon also took home the Community Choice honor, which was given to the top vote getter from the 100 or so community members who attended Monday's Holiday Dessert Bake-Off open house at the Pilot & Today office building.
Winners in each category were awarded $100 gift certificates to Ace at the Curve.
One of the open house attendees was Steamboat resident Roxann Ranney, who joined some of her co-workers from Sensor Solutions to sample the tables full of treats. After filling her plate with a variety of desserts, Ranney joked that she would have to work out every day for a week to make up for the indulgence. Nonetheless, she took her judging responsibility seriously.
"It has to be fair," she said. "It wouldn't be fair if we didn't taste it all."
A number of residents submitted multiple desserts, and many were returning entrants from last year. There also were a fair number of first-time entrants, including Steamboat resident Laura Sankey.
"I think it's a really fun community event," said Sankey, who entered Gram's Candy Cane Icebox Cake and Forgotten Cookies. "And I'm really competitive."
It also was McNamara's first year participating in the Holiday Dessert Bake-Off. After winning best cake in her first competition, McNamara said she likely would be back next year to defend her title.
"I'll have to work on a new recipe," she said.