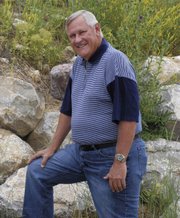 Brooks Kellogg timeline
March 8, 2001: Stephen Bunyard, through First Land Development, put land into a real estate development with Eagle Glen LLC, a company registered to Brooks Kellogg. First Land holds 25 percent ownership in the project.
June 2002: Eagle Glen did not make loan payments, and foreclosure proceedings started.
Late 2002: Eagle Glen allegedly tries to buy out Bunyard's company Fist Land, but he turns down the offer.
March 31, 2003: Eagle Glen sells the property to Eagle One, also registered to Kellogg, without Bunyard's consent.
Aug. 27, 2003: Eagle One changes its name to Chadwick Estates, which is registered to Richard Friedman.
Nov. 15, 2004: Bunyard files lawsuit against Kellogg
Late 2004: Suit goes to trial in Routt County
April 10, 2008: Kellogg and Chadwick Estates settle with First Land for $2.38 million plus interest, for a total of about $2.5 million.
April 30, 2008: AMT LLC, a Bunyard company, tenders a check to Friedman for $200,000 for development of a townhouse in Chadwick Estate Villas. Later, Chadwick Estates agrees to sell the unit and pay AMT back the $200,000 invested plus interest and $307,500 in profit.
Feb. 11, 2010: Bunyard files lawsuit against Friedman, Kellogg and Chadwick entities for failing to make payments
2010: Judge orders two sides to go into arbitration and to report back to her in 2011.
June 30, 2010: A judge agrees to the $2.5 million settlement in the first lawsuit
Oct. 1: Barbara Blackmore, a 47-year-old Clifton woman who says she is the mistress of Kellogg, calls Bunyard's attorney in Steamboat Springs, Reed Morris, to tell him she has heard about a possible plan to kill Bunyard. Morris notifies the Routt County Sheriff's Office, which notifies the FBI.
Oct. 5: The informant makes a monitored telephone call to Kellogg in the presence of FBI special agents, according to an FBI affidavit. A special agent posing as the contracted killer makes calls to Kellogg about the hit.
Oct. 7: Kellogg agrees to meet the caller and pay $2,000 more for expenses, according to the FBI affidavit.
Oct. 18: Kellogg agrees to meet the undercover FBI special agent at Denver International Airport at 12:40 p.m., according to the FBI affidavit.
Oct. 19: Kellogg arrested at DIA after giving $2,000 to an undercover FBI agent posing as a hit man, according to the FBI affidavit.
Oct. 25: Kellogg's U.S. District Court hearing postponed
Nov. 1: U.S. District Court hearing for Kellogg. Judge denies bail, meaning Kellogg will remain in jail. Judge also finds probable cause for prosecution to pursue the case against Kellogg.
Nov. 5: Kellogg pleads not guilty at U.S. District Court in Denver.
February 2011: Second lawsuit scheduled for arbitration
Denver — Brooks Kellogg pleaded not guilty Friday morning in U.S. District Court in Denver to charges stemming from an alleged murder-for-hire plot.
During a brief hearing before U.S. Magistrate Judge Kristen Mix, attorney Dru Nielsen, representing Kellogg, said he had a chance to review the charges and waived a reading of them.
On Wednesday, a federal grand jury in Denver formally indicted Kel­­l­ogg on one count of use of interstate commerce facilities in the commission of murder-for-hire and one count of solicitation to commit a crime of violence. If Kellogg is convicted, he could be sentenced to as much as $500,000 in fines and as many as 30 years in prison.
Kellogg, 72, attended Friday morning's arraignment, handcuffed and in custody of U.S. Marshals. He was wearing a tan jumpsuit and did not speak during the hearing. He appeared to review and sign paperwork before the arraignment started.
Nielsen, a partner of defense attorney Larry Pozner, declined to comment on the case after the hearing other than to say it will proceed in court.
No friends or family of Kel­logg appeared to attend Friday morning's arraignment.
The judge set dates for the prosecution and defense to share material and instructed the lawyers to call to set a date for the next hearing.
Kellogg, from Chicago, is a part-time Steamboat Springs resident and developer.
He is accused of hiring a hit man to kill Stephen Bunyard, a Florida man who settled for $2.5 million in a lawsuit against business entities owned by Kellogg and a Steamboat Springs business partner, Richard Friedman. Friedman has not been accused of any wrongdoing.
That $2.5 million judgment now is in collection, according to an FBI affidavit. A second suit for $500,000 is scheduled for arbitration in February.
Kellogg was arrested Oct. 19 at Denver International Airport, after authorities say he met with an undercover agent and handed the agent $2,000 for expenses related to the killing.
Kellogg, from Chicago, is the managing member of Chadwick Real Estate Group in Steamboat Springs and owns the Old Pilot Building at 1041 Lincoln Ave. He also owns a house overlooking Rollingstone Ranch Golf Club.