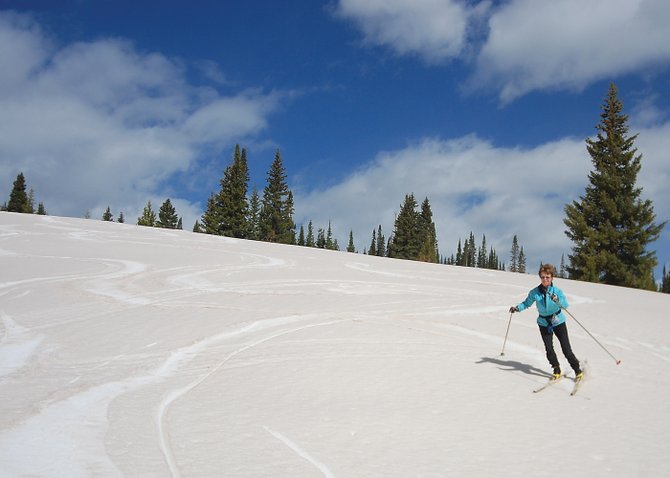 Tom Ross: Corn snow on Memorial Day menu
Tom Ross
Tom Ross' column appears Tuesdays and Saturdays in Steamboat Today. Contact him at 970-871-4205 or tross@SteamboatToday.com.
Find more columns by Tom here.
Steamboat Springs — The spring skate skiing on Rabbit Ears Pass was corn-tastic Sunday, but by 9:30 a.m., it was all over for the day.
If you want to ski freely over the Alpine meadows in May and June, you have to rise early, before the sun turns the surface of the snow to cornmeal mush. The idea is to catch the packed snow just as the first one-quarter inch on the surface is transformed into little ball bearings the size of corn kernels.
It's certainly not unheard of to enjoy some late-May skiing on the pass, but this year's circumstances are way out of the ordinary.
As you'll remember, the winter of 2008-09 produced 405 inches of snow at the top of Thunderhead on the ski area. I can vividly recall last year's spring skiing along the U.S. Forest Service road to Walton Peak because we were hosting a cross-country ski team from New England.
I'd been bragging about our snowpack in April 2009, but things began to deteriorate rapidly under sunny skies and 70-degree temperatures after mid-May.
Steamboat's Greg Rawlings groomed the road that spring to solidify the snowpack, and our group was able to get in some on-snow training, but barely.
This year, of course, we saw just 261 inches of ski season snowfall at Thunderhead. Six weeks ago, I would have said there was no chance of June skiing. Now, I'd be willing to bet you a corn dog lunch that we will ski in June 2010.
I don't have to tell you that we've had almost nothing but rain and snow in the valley ever since the mountain closed April 11 (with a few spring-like days tossed in), and the snow has been accumulating all spring above 8,500 feet.
We left the house at about 7:15 a.m. Sunday, and I noticed that the car's thermometer read 37 degrees. There was a temperature inversion in effect and before we reached the west summit of the pass the digital readout had climbed to 43 degrees. We knew that it had frozen overnight and were optimistic that the snowpack still would be holding up when we turned off on the road that leads to the Steamboat Snowmobile Tours cabin.
We had acres and acres of skiable terrain almost to ourselves.
Our only companions Sunday included a hungry coyote, a solo skier with a medium-sized dog who never showed himself or herself, and a large bear we're happy to say we didn't actually see.
I'm pretty sure I was looking at bear tracks ambling up the snow-packed road because there aren't that many creatures in the forest that leave tightly spaced pairs of prints the size of saucers. This critter made a depression in the snow that was 3 inches deep with distinct claw marks at the front.
I took my glove off and touched the inside of the print to confirm it was frozen, a sign that it was at least a day old. I thought for a minute about whether or not I could out-ski a bear that was looking for its first breakfast in six months. I decided I probably had better wax than he did.
I actually had more fun making bad Telemark turns down long, moderately pitched slopes than I did skating across the crust.
My recommendation? If we get a cold, clear night this week, head up Rabbit Ears for the corn harvest.