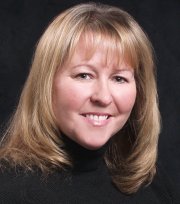 Steamboat Homefinder
Visit SteamboatHomefinder.com for more real estate news.
Steamboat Springs — Jill Limberg has joined Prudential Steamboat Realty as a managing broker and sales agent. The announcement was made this week by Prudential Steamboat co-owners Pam Vanatta and Cam Boyd.
"Jill brings a long history of management skills and contract/regulation knowledge of our business within the Colorado Real Estate Commission," Boyd said in a news release. "I've been the managing broker for the past 10 years, and our business has changed a lot over that time. Based on our office's growth coupled with an evolving market, we decided that it was time to add a dynamic leadership role to assist our agents in providing superior customer service to our clients."
Limberg moved to Steam­boat in 1986 after graduating from Texas A&M University with a bachelor's degree in political science. Her background in residential real estate includes sales experience with Coldwell Banker, Prudential Trimontane, and a boutique company called Steamboat Mountain Properties. In 2004, she joined Colorado Group Realty and became managing broker and a shareholder in the company. She has achieved a variety of accolades in her real estate career, including Broker of the Year at Colorado Group in 2006, Colorado Association of Realtors Distinguished Service Award in 2009, and Realtor of the Year by the Steamboat Springs Board of Realtors in 2000 and 2009. 
She is the vice president of education for the Colorado Association of Realtors, the chairwoman of the Education Development Committee that oversees all education that CAR is responsible for, the state Professional Standards Committee, and president of the Steamboat Springs Board of Realtors in 1999 and 2000.
"The main reason I was attracted to Prudential Steam­boat Realty is the impressive leadership provided by Boyd and Vanatta," she said in the release. "The network of broker associates at Prudential Steamboat Realty is an elite collection of real estate professionals in Steamboat, and I am excited to join their ranks."
Sotheby's agents network at international conference
Marci and Tom Valicenti and Kim Fulks, of High Mountain Sotheby's International Realty in Steamboat Springs, recently participated in the 2010 Sotheby's International Realty Global Networking Event.
The three-day event provided an opportunity for all sales associates, managers and owners who are members of the Sotheby's International Realty network to connect, exchange ideas and forge relationships designed to help build their businesses and drive new leads to their listings.
"It was fascinating for Marci and I to see how perceptive the Sotheby's management was to current market conditions and in particular, how to deal with future buyers including members of generations X and Y," Tom Valicenti said in a news release. "In particular, they stressed the use of all types of social media in dealing with potential buyers and sellers."
"The annual Global Networking Event provides a unique value to our firm and agents," High Mountain Sotheby's broker/owner Ted Hoffman said. "It allows our firm to share ideas and best practices with our fellow brand professionals from all over the world. It also gives us the opportunity to learn more about the real estate business worldwide through informative breakout sessions on a variety of topics."