Business File: Steamboat Springs Chamber mixing it up
Steamboat Springs — The Steamboat Springs Chamber Resort Association is hosting two upcoming mixers. A business after-hours mixer for Chamber members and their guests is from 5 to 7 p.m. Wednesday at Elk River Crossing on Curve Plaza. The event includes free food and drinks, prizes from local businesses and networking.
Next month, the Chamber hosts a Summer Activity Mixer from 3 to 6 p.m. June 9 at the Sheraton Steamboat Resort. The event provides an opportunity for summer recreation businesses, restaurants, retailers and more to showcase their business. A booth rental costs $125 or is offered free to restaurants serving food or beverages. Call Meagan Coates at 970-875-7003 or e-mail meagan@steamboatchamber.com.
Talking Green group event is set for Tuesday
Talking Green, a Steam­boat Springs green building group, meets from 5:30 to 6:30 p.m. Tuesday at Harwigs/L'Apogee at 911 Lincoln Ave. All are welcome. Tristan Frolich will update plans for Re-Tree Colorado, a June 26 event with a goal of planting 20,000 trees across Routt County to spur forest regrowth after the bark beetle devastation of recent years. Contact Sarah Fox at 970-879-7529 or sarah@fox-construction.com.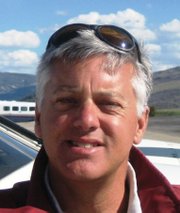 Birkinbine earns flight instructor accreditation
Master Instructors LLC announced this month that Joe Birkinbine, of Steamboat Springs, has earned his master certified flight instructor, accreditation recognized by the Federal Aviation Administration. Birkinbine is the owner and operator of Steamboat Flight Academy at Steamboat Springs Airport. He also serves as area representative for the Colorado Pilots Association, according to a news release. Birkinbine is one of only 32 Colorado flight instructors to earn such accreditation, according to Master Instructors.
Steamboat chamber to offer hospitality training
The Steamboat Springs Chamber Resort Association is offering free hospitality trainings at 9 a.m. and 2 p.m. June 1 at Centennial Hall, 124 10th St. in downtown Steamboat Springs. Each training session lasts about an hour and is part of the Chamber's ongoing Spurs on Service program. E-mail rsvp@steamboatchamber.com or call 970-875-7000 to RSVP.