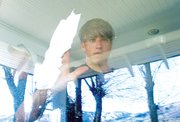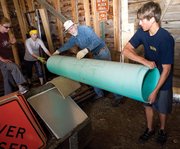 Feasting with Yampatika
Yampatika will host its 10th annual Wild Edible Feast from 6 to 9 p.m. June 4 at Lake Catamount. Yampatika's team of botanists and plant collectors will work with a professional chef to develop the menu. Past menus have included grouse with mint sauce and sautéed bracken fronds.
All proceeds support Yampatika's work to inspire environmental stewardship through education in Northwest Colorado. Tickets are $75 a person. Call 871-9151.
Steamboat Springs — High school students tilled gardens and performed ranch chores Thursday amid the emerging spring greenery at Yampatika's Environmental Learning Center at Legacy Ranch. It was a fitting celebration of the statewide historic preservation award the environmental education nonprofit shared with the city of Steamboat Springs this week.
The Legacy, Hutchinson Ranch received the 2010 State Honor Award from Colorado Preservation on Tuesday in ceremonies at the Denver Botanic Gardens. The award recognized the way in which the city and Yampatika collaborated on preserving a historic set of working ranch buildings and transforming them into a public education facility that is well used.
"We like to say that historic preservation isn't just about old buildings, but about community reinvestment and getting people involved with the economic development that results," said James Hare, executive director of Colorado Preservation. "There are lots of endangered ranches, but when you have one that can be used by the public, it's really nice. This is an exceptional public-private partnership."
The award received by the city and Yampatika was a part of Colorado Preservation's annual Dana Crawford Awards Dinner. Yampatika's Executive Director Sonja Macys and City Director of Parks, Open Space and Recreational Services Chris Wilson were in attendance along with city historic preservation staff members Laureen Schaffer and Alexis Casale. Steamboat historic preservation expert Arianthe Stettner, who is the incoming president of the board of Colorado Preservation, also attended.
"These efforts to ground ourselves in that history speak to the caliber of the community," Wilson said. He added his gratitude for all of the agencies that have supported Steamboat's preservation efforts so that community members will never have to say, "We used to have a great little ranch right there, but it's gone now."
Schaffer wrote in a historic survey that the 130-acre ranch was homesteaded in 1899 by Elizabeth Hutchinson, who lived on the ranch for just one or two years. I.G. Irving Arnold was the longest continuous occupant and also was responsible for most of the six buildings on the site.
Macys said Hutchinson's name probably would go on the application if the ranch were someday named to the National Historic Register, but on the Routt County Register of Historic Places, the property is listed as the I.G. Arnold Ranch District.
The city acquired the ranch buildings and a large hay meadow on the city's southern edge as part of the larger Legacy Project in 1999. Ever since, the city has contracted with a local farmer to harvest the hay from the ranch, which borders the Yampa River.
Wilson said the genesis of the facility that has been created on the ranch today goes back to former City Council President Kevin Bennet, Great Outdoors Colorado and everyone who worked on the original Legacy Project.
Macys said Yampatika's long-term vision for the learning center is to introduce future generations to the science, technology, history and societal significance of sustainable living, while honoring the ranch's past and the historic character of the buildings. Youngsters already have participated in building a new ranch fence out of local beetle kill timbers.
"It will present a unique challenge to prove to people that we can take a property with an historic designation and do modern things with it," Macys said.
A forthcoming demonstration project involves acquiring a modest grant to install a water harvesting system on the historic bunkhouse at the rear of the property.
It recently was established that in Colorado, households and farms that aren't served by municipal water might legally collect rainwater off roofs. The project will irrigate a small garden and demonstrate how much is available naturally, Macys said.
She's also looking ahead to a solar demonstration project that would install an unobtrusive solar panel that would fit flush with the south-facing roof of the historic dairy barn on the ranch.