Photo Gallery
Biking in Vernal, Utah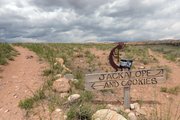 How to get there
Just drive west. U.S. Highway 40 takes you straight from Steamboat Springs to Vernal. The trip takes a little less than three hours. Vernal is a big enough town to offer all necessary services, but there's not much to find during the two hours between Craig and Vernal, so don't count on anywhere to stop.
Where to go
The first stop should be at Altitude Cycle, 580 E. Main Street in Vernal. Pick up a $6.95 map pack and ask the staff about trail conditions and for any advice. Not much happens on two wheels in Vernal without the crew at Altitude Cycle knowing about it.
The largest trail complex is on the McCoy Flat, and it's about 5 miles west of Vernal and 6.5 miles west of Altitude Cycle. Look for a paved road that leads to the left, the only one of its kind in the area. It's not well paved, so take it slow. Three miles down the road there's a hard-to-miss parking lot on the left side that acts as a trailhead for most of the eight trails at the location.
What to do
Milk and Cookies is a well-paced beginner trail, or a warmup for experienced riders. It goes 6 miles and features the tight singletrack, as well as a fun, fast rolling section toward the end.
For more rolling terrain, try Jackalope and Serpendipity, a pair of trails that locals rate among the best in the area.
Steamboat Springs — It's a well-worn, and for Steamboat Springs mountain bikers, a well-known left turn. You know, the one just past the Wendy's, McDonalds and Walmart in Craig.
Turning south from U.S. Highway 40 onto Colorado Highway 13 is the way to the trails — the classic spring mountain biking destination of Moab, Utah, and its popular cousin Fruita, closer by three hours.
But ignoring that turn and heading straight through Craig also can lead to spring mountain biking delight. Another two hours down U.S. 40 is Vernal, Utah.
Plenty of options
Like Fruita and Moab, Vernal offers a variety of trail complexes at which to ride, and each offers its own challenges.
There are about 150 miles of trails in the area, most of which have been built in the past 14 years by Tony Lupcho, owner of Altitude Cycle, the Vernal shop that is the center of all things biking in the region.
Top-tier trails await experienced riders, but there are plenty of options for beginner and intermediate riders, too.
Milk and Cookies is a beginner trail that ties together the McCoy Flat trail area, the largest of Vernal's trail systems.
It's a 6-mile loop rated as the easiest of the eight trails at the site. It connects to several more difficult trails, meandering under bluffs from which more challenging rides like More Pimps, a 4-mile loop, and More Hoes, a 5-mile loop, are cut.
The first half is tame singletrack through sagebrush, complete with a few snakes. The second half is a more challenging rollercoaster section that runs through and over an outcropping of large rocks before returning to the parking lot.
Lupcho said the most popular rides fall in between those green and black trails, however. Jackalope is a 7-mile loop that breaks away from Milk and Cookies and is intersected by the 3-mile-long Serpendipity. Retail Sale, meanwhile, is an 8-mile loop that runs on the opposite side of the Bureau of Land Management land on which the trails are laid out from Milk and Cookies.
"The way I describe them, they are a fast, fun frenzy of undulating desert singletrack," Lupcho said. "They aren't sustained climbs. If you want to go rip it up on a single speed or a hardtail or dual suspension, it doesn't matter. You'll have fun. It's a blast."
Altitude Cycles is at 580 Main St. in Vernal. A map pack featuring the McCoy Flat area, as well as six other trail areas is available at the shop for $6.95.
Plenty of town
Vernal is a town that feels built on tourism. But it's not cycling expeditions that power this Utah hot spot.
It's clear from the very edge of the city limit that Vernal is gaga over dinosaurs. A giant pink diplodocus — that'd be a longneck for the "Land Before Time" crowd — with big eyelashes and mechanical, roaming eyes greets every visitor with a "Vernal, Utah's Dinosaur Land" sign.
A three-story tyrannosaurus rex decked out in fishing gear stands guard at the other end of town. And it seems just about every business — from the Dino Haus Brewery to the Utah Field House of Natural History — has adopted a dinosaur theme of one sort of another.
The Field House is hard to miss — a triceratops and tyrannosaurus rex are battling it out on the front lawn next to the town's main highway — and it shouldn't be missed. It features a number of full dinosaur skeletons and plenty of fossils from more recent times, but the lessons are more about finding those relics than what they are and mean. A short film and a 60- to 90-minute tour can give any visitor a great idea why Vernal is such a dinosaur hotbed.
Vernal is larger than Fruita and Moab, almost a cross between Steamboat and Craig. It's not overflowing with night spots, but there are plenty of restaurants, several bars and a Walmart in case you forgot the propane for your grill.
"It's still a small rural Utah kind of setting. It's still Vernal, Utah, and we're still big on gas and oil," Lupcho said. "But that makes it a nice, quaint little place, too."
Hotels are available, with most rooms costing at least $50 a night.
There's a KOA campground just north of town that's surprisingly well stocked with ample sites for tents and RVs, a new shower building, an outdoor kitchen and even a miniature golf course. Even tent camping there isn't cheap, though, costing about $25 a night.
More camping is available at the McCoy Flat trails area and in two nearby state parks.
'Welcome to Vernal'
Lupcho said mountain biking in Vernal is growing as fast as he can print map packs. He said this spring is the busiest yet, and Steamboat riders are becoming more regular, but not as much as riders from other mountain states and even Canada.
A bike festival, NUMBfest (NUMB stands for Northeastern Utah Mountain Biking) planned for Memorial Day weekend should bring that all into focus, he said.
An hour closer to Steamboat than Fruita and four hours closer than Moab, Vernal can be a plenty attractive option for local mountain bikers looking for a ride on dirt.
"It keeps happening more and more," Lupcho said. "We'll get someone that decides to stop in Vernal for a day on their way down to Fruita or Moab. They'll stop by the shop one day, then come back then next and say, 'We canceled the rest of our trip. We're staying here for the whole time. This place is great.'
"I just say, 'Welcome to Vernal.'"