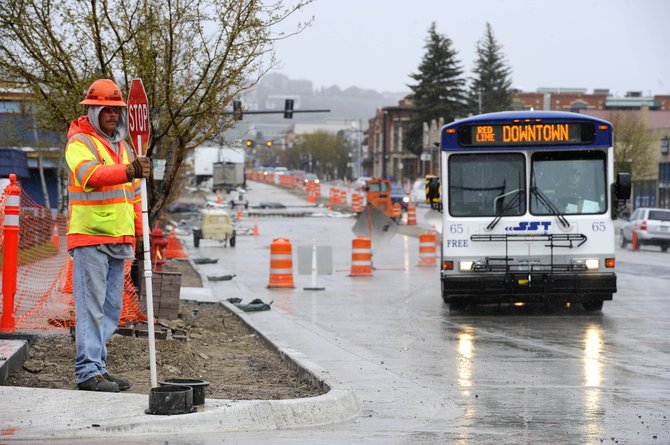 Fall paving likely in downtown Steamboat
Wet weather delays project until Monday; spokeswoman calls June 30 completion "highly unlikely"
Updated May 12, 2010 at 10:24 p.m.
Paving information
Jody Patten, project information manager for Scott Contracting, is providing several sources of information about the U.S. Highway 40 construction project. For daily updates on the project information hot line, call 970-819-7008. To sign up for e-mail updates on the project, visit www.coloradodot.info and click on the "Sign up for E-mail and Wireless Alerts" link in the upper right corner. Enter an e-mail address, select the appropriate updates and click "Submit." For more information, visit the project website at www.coloradodot.info/projects/us40steamboat.
Steamboat Springs — Get used to the idea of paving work continuing in fall, Steamboat.
After this week's wet weather postponed paving and excavation work on Lincoln Avenue until Monday, that possibility moved closer to becoming a certainty. Jody Patten, spokeswoman for Scott Contracting, said Wednesday that completion of the project by June 30 is "highly unlikely" after crews were sent home to wait out the rain and snow that is expected to last into Saturday. The National Weather Service in Grand Junction is forecasting chances of precipitation and thunderstorms until then, followed by mostly sunny skies Sunday through Tuesday.
"We've been consulting every weather source we can find, and it doesn't look good," Patten said about the week's remainder. "We wouldn't be able to do any hand pours of concrete or any mainline pave. Our dirt work is severely limited, too, because of how saturated the ground becomes. … We're kind of hamstrung. If we kept going, we would just get very little done."
Scott Contracting is conducting the $5.6 million repaving and highway improvement project for the Colorado Department of Transportation. Scott will receive an $80,000 bonus if it completes the project by June 30. Patten said Wed­nesday that she wouldn't rule that out but acknowledged that the odds are slim.
"We were two and a half weeks behind before this delay," Patten said.
Traffic control crews will remain on the job in downtown Steamboat Springs through Friday, Patten said, with officers at Third and Seventh streets during rush hours and at Fifth Street all day.
Steamboat Springs Police De­­partment Capt. Joel Rae said starting Monday that he will add a second officer to downtown traffic control. That officer eventually could help direct traffic at Third and Oak streets, Rae said, to ensure safety at the intersection that's an outlet for Steamboat Springs High School and is seeing increased use as an alternate route from the mountain area into downtown.
"It's pretty clear that as they move on down (Lincoln) and especially as we get into that Third Street intersection, that (traffic) is going to get worse before it gets better," he said.
Rae said Scott Contracting, through CDOT, is fully reimbursing the city for overtime police work on traffic control. But Rae said traffic control could affect police staffing levels.
"I think that will put a little strain on our staffing, but it's an important thing to keep that traffic moving," he said. The work "ends June 30, so we'll just do the best we can."
Rae said he is not aware of his officers issuing any tickets for speeding in the downtown work zone, which has a 20 mph speed limit 24 hours a day.
Work will stop June 30 regardless of completion. Pat­ten said work sites would be cleared and roads safely drivable on that date to facilitate summer tourism season. Scott would finish uncompleted work in the fall.
Patten said work could resume Sept. 1. But she and city Public Works Director Philo Shelton said conversations are under way to potentially move that restart until after the Labor Day holiday Sept. 6.
Scott Contracting is contractually obligated to complete the project by a date in mid-Novem­ber or face fines. Patten said that's a major reason why work cannot be cut off earlier than planned this spring.
"We can't afford to take most or even part of June off, or else we won't finish on the other end in time," she said.
City engineer Ben Beall said there are several ideas, but no agreed-upon plan, to increase the project's pace.
"We've looked at a number of scenarios for accelerating the work," Beall said. "We're continually in discussions with Scott in terms of how things can be worked out to better facilitate the work because we care about our downtown businesses. … Right now, there's nothing set in stone."