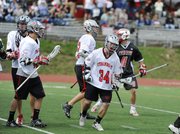 Steamboat Springs — As Steamboat Springs High School lacrosse coach Bob Hiester has watched his program grow up from its infancy to become the best team on the Western Slope, he's seen his team throughout the years take lumps.
Saturday in the first round of the state lacrosse playoffs might have been the toughest one, however.
Sixteenth-seeded Steamboat fell behind early against No. 17 Fairview and fought back only to see Fairview's Dylan Davie score the game-winner with 35 seconds left in the game, giving the Knights a 10-9 win.
"It's tough," Hiester said Saturday. "We turned the ball over more today than any single game we have this season. That first half particularly, our intensity level wasn't where it's been in the past."
That in essence was the game. The two teams lived up to their seedings and were evenly matched throughout.
The two teams were knotted at 2 after the first quarter, and Fairview was up just 4-3 at the half.
The Knights then hit their run.
Chris LeFebvere scored back-to-back goals to give the Knights a 6-3 cushion.
Brian Bertrand and Jackson Coe each scored for Steamboat to bring the Sailors back to a 6-5 game. Evan Rush gave the Knights a 7-5 lead before Lance Ostrom sent the Sailors into the final quarter down 7-6.
The two teams traded goals to start the fourth quarter before Fairview's Logan Bonsignore gave the Knights a 9-7 lead with 4 minutes, 51 seconds left in the game.
Steamboat's Grant McCan­non cut it to 9-8 at the 3:29 mark, and Garret Ehrick tied the game at 9 with just 1:37 remaining.
But Fairview won the faceoff, and Davie ripped a shot in for the game winner. Steamboat won the ensuing faceoff but couldn't come away with a shot.
"It's important for us to start stronger than we have been starting and settle into our game," Fairview coach Tom Knight said. "We have a lot of bad habits we have to work on. Every little thing we do from this point will make us better."
Bertrand and McCannon led Steamboat with two goals apiece. Owen, Tyler Samlowski, Coe, Ostrom and Ehrick each had one.
"It was just uncharacteristic moves," said Andrew White, who chipped in five assists. "We didn't realize that until the second half."
When Steamboat looks back on the game, it has to look at those uncharacteristic mistakes and struggles with the man up. The Sailors were just 1 of 5 on the man up and gave up a shorthanded goal.
Had Steamboat played better in the first half and early in the third quarter, the team might be on its way to the second round for the first time in school history.
Regardless, Hiester said he was happy with the way his team battled back, which has become a staple of the program.
"They've showed that kind of character," he said. "They've had great character all year long. They battled back. This is one where we look at and say, 'If we would have done a couple things different, a bounce here and gotten a ground ball there, we're going on and advancing.'"