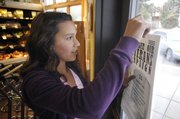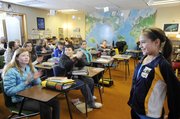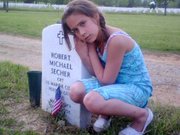 If you go
What: Steamboat Springs Memorial Day ceremony
When: 11 a.m. May 31
Where: Steamboat Springs Cemetery
How to help
Donations can be mailed to the American Legion Post. No. 44, care of Reina Salky, P.O. Box 776407, Steamboat Springs, CO 80477. Donations also will be accepted during business hours at Veterans of Foreign Wars Post No. 4264, 924 Lincoln Ave.; All That Jazz, 601 Lincoln Ave.; and McGill Professional Law Corp., 1107 Lincoln Ave. For more information, call Paula Salky at 819-2170.
Veterans buried without headstones in Steamboat
■ Harvey Adams: Adams, who served in the Army during the Spanish-American War, was thought to be working on a mining claim at Hahn's Peak when he died suddenly Aug. 8, 1925, at the Elk River crossing while riding a stagecoach from Craig to Steamboat. The county paid for his burial, and no military headstone was sought.
■ Byron Baker: An Army veteran of World War I, Baker died April 19, 1930, after an acute appendicitis attack while he was staying at his father's ranch in Oak Creek. Baker, who grew up in Florida, was wounded several times in battle as a member of the first machine gun division to go overseas. Baker's father later left the county, and it's not known why he never received a military headstone.
■ John Belton: Belton served in the Army from October 1918 to March 1919 during World War I. A death notice indicated that he died Oct. 26, 1948. He was from a pioneer ranching family on the Elk River. Belton died in Denver but was buried in Steamboat. It's not known why a headstone was never placed on his grave.
■ Lawrence Belton: Belton served four years in the Army during World War II. He was born and raised on the Belton Ranch on the Elk River and was a bachelor. He died Sept. 19, 1961, in Denver but was buried in Steamboat. It's not known why a headstone was never placed on his grave.
■ Orville Dawson: During his Army service from 1935 to 1958, Dawson served in World War II and the Korean War. Funeral records indicate that Dawson, who lived in Steamboat only for a few months, died in August 1972 and was given a graveside service.
■ Russell Dodd: The only information found indicates that Dodd served during the Cold War and died in 1965.
■ Joe Lombardi: Lombardi served for less than a year in 1918 during World War I. A naturalized citizen, he died Jan. 2, 1976, after retiring as a coal miner. An obituary couldn't be found, so it's not known why he didn't receive a headstone.
■ Louis Long: An Army veteran who served from 1918 to 1919 during World War I, Long was raised on a ranch in Twentymile Park. He died June 10, 1928, in El Paso, Texas, but his wife brought him back to Steamboat for his funeral. It's thought that Long never received a headstone because his wife left town immediately after the service without paying and wasn't heard from again.
■ Edgar Manning: Manning's funeral record indicates that he served in the Army during World War II and died in 1969. It is believed he was a transient.
■ George Serencko: An Army veteran who earned a Bronze Star in Vietnam, Serencko served as the city of Steamboat Springs public works director and later was one of the founders of Civil Design Consultants. After his death in 2003, his family bought a memorial tree and wanted to place his headstone beneath it. His family was told they didn't have the proper paperwork and gave up.
■ Hugh Young: Young earned the Silver Star for heroism in combat during World War II. He grew up on a ranch near the current site of the Haymaker Golf Course. His family moved to South Dakota where Young died in 1999, but sent his ashes to Steamboat for burial in the family plot. No family could be contacted, so a military headstone wasn't requested.
Source: Information compiled from obituaries, newspaper stories, funeral records and interviews.
Steamboat Springs — Jim Stanko knelt in the grass last week beside an inexpensively constructed white wooden cross.
The cross marked the grave of Spanish-American War veteran Harvey Adams. Adams was the first of several veterans Stanko discovered who didn't have a military headstone at the Steamboat Springs Cemetery.
Stanko, commander of Steamboat's American Legion Post No. 44, started identifying the graves in 1995. He marked them with wooden crosses painted white, but he knew the endeavor was only a temporary solution.
The white paint has chip­­ped. The names painted in black on the crosses have faded. And some of the crosses have been knocked over, damaged or lost. Stanko has replaced many.
Since he started working to identify each unmarked veteran gravesite, Stanko has tried to find enough information to get each man a headstone from the U.S. Department of Veterans Affairs, which provides them at no cost to families of eligible service men and women.
Unfortunately, eligibility is determined by documentation, which Stanko doesn't have and has been unable to locate. Information about these men is scarce. Cemetery and funeral records, some dating back nearly 100 years, are incomplete. Military records for many are nonexistent.
But Stanko has found a solution with the help of Reina Salky.
The project
Reina, a seventh-grader at Steamboat Springs Middle School, approached Stanko in November about an idea for a project.
As a requirement for her bat mitzvah, which signifies that a girl becomes an adult in the Jewish community, Reina must complete a community service project. It's a requirement of Har Mishpacha, her family's congregation.
Reina started attending Steamboat's annual Memorial Day ceremony with her family after her uncle Robert Secher, a captain in the U.S. Marine Corps, was killed in combat in Iraq on Oct. 8, 2006. Reina said she didn't know what Memorial Day was until she lost her uncle.
She decided to do something that would honor Secher.
"I wanted to find a project that was really close to my heart and for Memorial Day," Reina told Jennifer McCannon's seventh-grade language arts class during a presentation in January.
After speaking with Stanko, Reina learned that 11 military veterans buried in Steamboat didn't have headstones.
She decided to raise money to pay for headstones, like the ones issued by the VA, to replace the white crosses. Reina wanted to make sure the veterans buried in Steamboat without headstones weren't forgotten.
"It honors them, how they died — sacrificing their life and helping our country," she said.
After Reina decided to take on the project, Stanko said he was happy to see someone get it done. It's been his pet project for 15 years. He and others before him who have tried to properly honor the veterans haven't been able to complete the task.
"This is a permanent solution," Stanko said. "These graves will be forever marked and identified as vets."
Stanko contacted Yampa Valley Funeral Home Director Mitch Locke to make the 18-inch-by-18-inch flat granite headstones. Stanko said they would include the same information as a VA headstone: name, birth and death dates, conflict they served in and branch of military.
The challenge
Stanko said a variety of circumstances led to the veterans' not receiving military headstones.
He said some of the men were transient residents, who were passing through or working in Routt County when they died and didn't have family in the area to file the proper paperwork. He said some families didn't have the paperwork or didn't try to file it. In some cases, Stanko said the families grew frustrated and abandoned the process to get a headstone.
Janice Serencko, whose husband, George, died in 2003 after a two-year battle with pancreatic cancer, thought she had everything she needed to get him a VA headstone.
The Serenckos moved to Steamboat in 1977 after George served as a member of the U.S. Army in Vietnam where he was awarded the Bronze Star, which is given for bravery, acts of merit or meritorious service.
George Serencko served as the city's public works director until the early 1980s. He later was one of the founding partners of Civil Design Consultants in Steamboat.
Reached by phone Friday at her home in Wiscasset, Maine, Janice Serencko said she encountered complications while trying to get George a military headstone. Serencko said she had all the paperwork and his Bronze Star and the certificate for it but was told that the certificate could have been bought at a military surplus store.
Serencko said she was told to contact her congressman. She said the process was frustrating.
"I had just given up with dealing with the VA," she said "It was such a hassle. I wasn't getting anywhere. It wasn't worth it."
When Serencko was contacted by a friend in Steamboat and told about Reina's project, she was impressed.
"I think she's doing a real community service," Serencko said. She plans to visit her husband's grave in October.
The ceremony
Last week, Stanko said Reina had raised about $1,200 toward their goal of $1,500 to pay for the headstones.
There are still a few weeks to raise the rest of the money before the headstones are unveiled at the annual Memorial Day ceremony May 31. During the ceremony, Stanko said each of the 11 veterans would be recognized.
Yampa resident Doug Wer­ner's family used to own a ranch where the Haymaker Golf Course is today. The family of Hugh Young bought the adjacent ranch when Werner was 12 or 13 years old.
Young, a World War II veteran who earned a Silver Star for heroism in combat, died in 1999. His family had moved to South Dakota, and after he died, they sent his ashes to the Steamboat cemetery. They couldn't be reached to fill out the paperwork for a military headstone, but Young will receive one because of Reina's project.
Werner, who served in Vietnam in the Army, said he was "tickled to death" to hear about Reina's project and that Young, a family friend, would be properly honored.
"It's just nice to see we're appreciated," Werner said. "I think it's a real nice deal she came up with. I think if nothing else to keep the public aware that a lot of men went and did their part to make sure we have the freedoms we do. I don't think there can be too many reminders of that."
As people enter the cemetery for the Memorial Day ceremony, Reina will hand them a card that on one side will include information about a service member from Colorado who died in combat. On the back, the card will have information about one of the 11 veterans buried in Steamboat and receiving a headstone.
With her project nearly complete, Reina said last week that it was a learning experience.
"I've learned a lot about what Memorial Day is and about the people who have dedicated their lives," she said. "I realize how special it is."