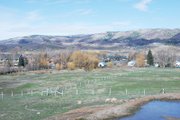 Steamboat Springs — City officials this month are reviewing an application to subdivide a 12.13-acre parcel east of Casey's Pond on Steamboat Springs' south side that could begin the transformation into a senior living campus as soon as this summer.
Yampa Valley Medical Center CEO Karl Gills said Thursday that he hopes to move dirt to begin site preparation for the senior campus this summer with construction to follow in 2011. Pearl Senior Living, the company that advised YVMC on site selection, will develop the project. A separate nonprofit group, Colorado Senior Residences, has been created to work with Pearl on the project.
"We are hoping to be able to do earthwork this summer so we will be ready for foundation work next summer," Gills said in an e-mail. "By doing this, it will allow us to save several months in the construction process and will have the community open sooner and reduce the overall cost significantly. We are working with the city staff to be sure we are within the appropriate process to accomplish this."
Gills said whether they reach the goal of beginning construction in 2011 depends on a number of things coming together.
In addition to beginning earthwork this summer, he said, all financing arrangements would have to be completed and all the city approvals for the development would have to be in place.  
"We believe that this is possible," he wrote.
Location set
The site is adjacent to Walton Creek Road, where the primary road entrance would be located. The senior campus would occupy half of the overall site. The subdivision of the land into western and eastern parcels of nearly the same size also would provide the impetus for extending Chinook Lane to the north across Walton Creek Road. The western parcel, closest to Casey's Pond, would become the site for the senior campus.
Gills said a contract to purchase the parcel from Casey's Pond LLC is in place.
"Closing on the property is dependent on several requirements being met," he wrote. "Obtaining all necessary (city permits) is one of those conditions."
Interim City Planning Director Jonathan Spence said last week that he expects to begin working with development representatives on the senior campus proposal soon.
"We anticipate seeing the project beginning to move forward," Spence said. "We'll be working with the developer this summer to refine their plans."
Gills said the development group is involved this month in determining how best to use the site for buildings, access and community amenities.
Extending Chinook Lane
Casey's Pond LLC, represented by longtime Steamboat real estate developer Jon Peddie, is the entity seeking to subdivide the property. City officials are studying his application for a preliminary plat, but no hearings have been scheduled.
In a recent memo, City Engi­neer Janet Hruby said a traffic study required for the subdivision could be deferred to final plat.
Spence said last week that the results of that study also could be used to inform the expected development permit process for the senior campus. Pearl's long track record with developing and managing senior communities suggests that the type of development does not generate as many automobile trips as one might think.
Peddie said he would submit conservative estimates of how much traffic the development on the parcel he is retaining might generate. He added that he has no specific development plans at this time.
Burgess Creek runs along a fence line at the southern perimeter of the property close to Walton Creek Road. Spence said the prospective developers are agreeing to observe the 50-foot creek setback called for in the city code.
Architect Michael J.K. Olsen, representing Casey's Pond LLC, wrote in a letter to Spence that the extension of Chinook Lane would be built to city standards and include a new Mount Werner Water and Sanitation District water main.
"The proposed Chinook Lane will connect Bronc Buster Loop (via Owl Hoot Trail) in the Wildhorse Subdivision," Olsen said. "The proposed street will meet the current public works standards for a local road, thus a 60-foot right-of-way has been provided with a 24-foot-wide drive surface."
Olsen said the new water main beneath Chinook Lane would allow Mount Werner Water to tie together its existing water mains in Wildhorse and along Walton Creek Road, creating a desirable loop.
Peddie said his group and Pearl would share responsibility for building the road extension.
Gills confirmed in February that the intent is to move the existing skilled nursing rooms at the Doak Walker Care Center at YVMC to the new neighborhood, where he said it would "care for the same population the Doak is caring for today."
The new facility would combine independent senior living, assisted living, and memory care services and skilled nursing on one site.
A significant impetus for the project is the growing demand for assisted living facilities that would allow Steamboat residents to relocate elderly parents to the Yampa Valley from distant cities.
The members of the board for Colorado Senior Residen­ces include Gills, Marilyn Mc­­Caulley and Charles Parsons. They will consult with a panel of about 10 community advisers.