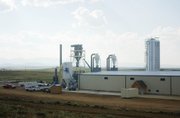 Now hiring
Rocky Mountain Pellet Co. in Walden announced last week that it's hiring workers through July. Jobs include quality control operators, machine operators, mechanics and forklift operators, a news release states. Those interested can get an application on the Web at http://rockymount..., then mail it to Rocky Mountain Pellet Co., P.O. Box 715, Walden, CO 80480. Applications also can be faxed to 970-723-4060. Call the plant at 970-723-3760 or 888-501-3766.
Steamboat Springs — Tough times are just starting to turn around at Confluence Energy's Kremmling pellet plant, but at a South Routt County store that is one of the plant's customers, pellet sales have been blazing all winter.
"It's unbe­lievable how it's going," said Jules Palyo, co-owner of Flat Tops Ranch Supply in Phippsburg. He said the store sold almost 400 tons of pellets during the winter that and the demand remains strong.
"I know it's growing — people are purchasing pellet stoves like crazy, mostly because of the limited availability of coal," he said. "We're getting new customers all the time."
Twentymile Coal Co. in west Routt County contracted its home coal distribution to Bower Brothers Construction in Craig in the fall, ending the mine's distribution in Routt County. Palyo said many customers have told him that made it much harder to access quality coal.
And it's definitely boosted his business.
"Wood pellets are probably one of our main products now — sales have just been tremendous," he said. "We're getting customers from all over. I even had some Craig customers come in."
Flat Tops Ranch Supply is one of several regional entities, including Confluence Energy, that is banking on the growing biomass industry. Confluence Energy owner Mark Mathis had to lay off about 30 workers during the winter as heating oil prices dipped during an economic recession and relatively mild weather. But Mathis recently said he has some new contracts in the works and is planning to ramp up production and hire back some workers this month.
In Walden, Rocky Moun­tain Pellet Co. plant manager Michael Newton said after running with a small crew for the past six months, his plant now is hiring through July. He said the pellet plant has a leaner business model and a diversified product line that has meant exploring new uses for biomass materials.
"We do have the largest supply of raw materials in the country at our fingertips — it's just a matter of tapping into the right place (for sales)," Newton said, referring to the wealth of beetle-killed pine in the region. "We're seeing a huge interest in the market to procure product for next year."
In Routt County, Ste­­amboat Springs resident and former electrician Gus Connelly is joining with Mike Miller, of Rogue Resources, and local contractor Ken Carter to potentially form Sleeping Giant Forest Products. The business would create biomass products such as wood straw — a wood-strand material with uses including erosion control — at Miller's sawmill near the Milner Landfill. Connelly said the group, which still is developing, could become a regional production facility for Forest Concepts, a Washington state wood-straw production and distribution company.

Connelly said the group also is working with Comm­unity Power Corp., a Little­ton company that builds modular biomass power plants, to explore business options.
Like Newton, Connelly cited the plentiful supply of beetle-killed wood.
"We've got all this material around here that we're trying to make use of," Connelly said. "It's looking very promising, and we're very excited about it."
Connelly, Miller and Carter also are turning their eyes south to the Gulf of Mexico, where crews are trying several experimental ways to clean up the massive April 20 oil spill caused by an explosion on a BP drilling rig. Connelly said he is talking with groups including the U.S. Coast Guard and BP about shipping Routt County wood straw to the gulf, where it could be spread across oil for absorption, then skimmed off the water and possibly used to generate power in a biomass burner.
The group is "trying to get our material down there in the Gulf to test it out and see if it works," Connelly said. "We can turn one disaster in the Gulf and another disaster with the beetle kill and get something positive out of it."
Newton said for the biomass industry to really flourish, a greater, more consistent federal focus on alternative fuels is needed.
"I think the U.S. government really needs to take a close look at their … rules and regulations on what it is the economy is going to do in terms of dependency on oil and gas," he said. "One minute, it's everybody is researching and developing a use for pellets, and the next thing, it quit."
Newton acknowledged that in that regard, the oil spill ultimately could benefit his industry.
"Unfortunately, (federal efforts) may be accelerated a little bit with the accident down in the gulf," he said. "You certainly don't want a disaster to help your business, but it may require something like that to get the government to make a commitment."