Positive behavior reaps rewards at Hayden Valley Elementary
Hayden students participate in treasure hunt as incentive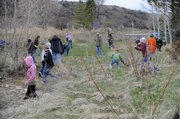 Steamboat Springs — More than 60 fourth- and fifth-graders stood off-balance, falling forward in anticipation from where they lined up on the edge of the outdoor basketball court, waiting for the command.
"Ready. Set. Go!" teacher Zach Wuestewald yelled.
The students darted toward an area behind Hayden Valley Elementary School where the grass grows a bit longer. They were on a treasure hunt — searching for the pink, purple, green, yellow, orange and blue plastic Easter eggs filled with trinkets.
Fourth-grader William Lighthizer explained that he and the other students earned the treasure hunt for "being good in class."
"It was super fun," William said.
The treasure hunt was an incentive for the students' participation in the school's Positive Behavior Support program. The program awards students for things such as walking quietly in the hall, raising their hands and being respectful.
Principal Rhonda Sweeter said Positive Behavior Support allows the school to teach procedures to students. She said the idea is to teach them from a positive perspective instead of imposing punishments. Stu­dents are encouraged to be safe, be kind and be respectful, Swe­etser said.
Sweetser said that at the beginning of the year, students in every grade are taught the procedures. Those procedures are reviewed after winter and spring breaks, she said. And with each lesson, an activity is planned to reward the students.
"It's a neat way to review procedures and have incentives placed within them," Sweetser said. "It's a way to reinforce positive behaviors."
She added that it also establishes guidelines for the school's staff about what to expect from students.
Past activities have included a pie-throwing contest, making banana splits, making root beer floats and playing musical chairs. Sweetser said the teachers take suggestions from students to design the activities. This time, it was a treasure hunt.
All 170 of the school's K-5 students participated last week. They were allowed to find five eggs each, filled with trinkets such as animal-shaped erasers, pencil grips and candy. Some of the eggs were filled with "Golden Tickets," which students could redeem for passes to go swimming at the Old Town Hot Springs in Steamboat Springs.
"I got a golden ticket," fifth-grader Michael Ferrier screamed after opening one of his five Easter eggs.
In fourth-grader Brisha Arch­­uleta's eggs, she found a temporary tattoo, an elephant eraser, two pieces of bubble gum and a rubber monkey — the type of toy that would stick if thrown at a wall or window. Brisha said she had fun.
"I got to run around and find things," she said.
Sweetser said the school adopted Positive Behavior Sup­port several years ago. She said it conforms to the state's Response to Intervention model, which identifies when students need additional assistance in areas of behavior or academics.
The feedback from the school's teachers since instituting the program has been positive, Sweetser said.
"Is it the end all, get all with every kid behaving perfectly? No," she said. "But it does encourage positive behavior and not punitive stuff for bad behavior."