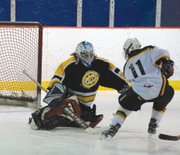 Steamboat Springs — There was a different air in the Chix with Stix women's hockey team's locker room before the Women's Association of Colorado Hockey B1 Cha­mpionship game Sunday. The room was buzzing, and every player was focused.
Then the Chix managed a feat 17 years in the making — they brought home the "Bella Cup" and claimed their first-ever division championship.
The Chix skated to a 3-0 victory against Northern Colorado Comets at the Old Foothills Ice Arena in Lakewood. It was the fourth meeting between the teams this season and the second of the tournament. The Comets entered the tournament undefeated overall with a win and a tie against the Chix in the regular season. They opened the tournament with a 3-2 win against the Chix.
But the Chix caught them off guard in the championship.
"We had great energy going into the game," team captain Cathy Wiedemer said. "We knew it would be challenging, and we went into it knowing we had to put it all out there."
The first scoring chance of the game came when Comets' forward Jennifer Gonzales, point leader for the B1 division, broke into the Chix's defensive zone. It was Gonzales who kept the Chix out of the 2008 B1 championship game when she scored on a similar opportunity. This time, however, Chix goaltender Nikki Knoebel stopped her short with a huge save that would set the tone for rest the game.
After several minutes of play at both ends of the ice, Chix center Shannon Forbes broke into her offensive zone at full speed. In spite of tight coverage by a Comet defensemen, Forbes got off a perfect pass to Riley Polumbus, who one-timed it through the five-hole, giving the Chix a 1-0 lead.
The back-and-forth battle continued for the rest of the period and into the second, when the Chix added a second goal.
Melanie Nimtz skated the puck into her zone and found Jen Travis, who took a quick shot. Nimtz collected the reb­ound and put it in the back of the net.
Later in the second period, Nimtz set up Chix defender Diane Dwire, who shot high and put in the team's third goal, this one off the crossbar.
The Chix contained the Comets, including several penalty kills, and Knoebel continued to shut down every shot until the clock ticked down to the Chix's first championship.
"It was a long time coming," head coach Tim Shorland said. "They played extremely well all weekend."
The Chix and Comets were two of four teams competing in the round-robin tournament. The Chix defeated the DWHL Renegades, 1-0, and the Clash, 10-1, on Saturday to earn the berth to the final game.
"After years of playing together, and because we are great friends, we have this inc­redible connectivity," Wiedemer said. "In each and every game, we played with teamwork, heart and pride; we played as a complete unit. The support of our coaches was incredible."