Steamboat high school program hopes class brings relief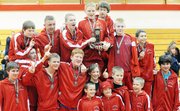 Steamboat Springs — When it was over, the wrestlers of the Steamboat Springs Middle School wrestling program didn't stop goofing off. They laughed and played, even as they stormed the court and raised a championship trophy.
This one celebrated the team's win Saturday in its final home meet, a narrow 1-point victory against East Grand Middle School.
Steamboat's wrestling community is hoping that's far from the last thing this group of athletes has to celebrate, however.
Shane Yeager, who coaches the middle school and high school teams, said things are coming together for the nearly dead high school program, and this class could be a big part of its resurgence.
"We're all really excited," eighth-grader Cole Sittig said. "Next year's going to be a great year."
Steamboat picked up weight-class victories Saturday from eighth-graders Max May, Connor O'Brien and Brandon Yeager.
Steven Baumgartner, Alec Koepfer, Dustin Andres, Ke­­egan Lyons, Ben Holden and Taylor Dillard finished second in their weight classes; Harrison Smith, Matthew Espinosa and Sittig were all third; and Dylan Wallace was fourth.
Those results were good enough for 31 points, just one better than East Grand. Moffat County was third with 20 points.
The Sailors fielded 17 wrestlers, and Shane Yeager said he expects at least 10 of this year's 14 eighth-graders to join the high school program next winter.
"That's huge," Yeager said about Saturday's win. "That class is huge for our program. I had seven freshmen on this year's high school team. As soon as these guys hit the high school team, they will mesh pretty good.
"We're looking at 20 to 25 kids on the team next year."
Steamboat's high school program got a boost last month when freshman Casey Williams became the first Sailors wrestler in years to qualify for the state tournament.
Although he didn't manage to place in his bracket, his success didn't go unnoticed and helped show this year's eighth-graders what they can accomplish.
"Wrestling's one of my favorite sports. I've been doing it for seven years," O'Brien said. "I figure if I get into high school, it would be pretty cool if I did what Casey did."
It also helped reinforce Yea­ger's reminders that Steamboat once was home to a proud and strong wrestling tradition.
That's a theme he hopes to keep alive with a new fundraising program that will kick off with a May 1 dinner at Saddleback Ranch near Steam­boat Springs. The event will feature an auction and an opportunity for donations.
Yeager said all of Steamboat's 27 individual state champions and 158 wrestlers who have qualified for state are being invited to the event.
He said he and the wrestling community were caught off guard by a Steamboat Springs School Board proposal that would either cut the high school program or consolidate it with teams in Hayden or South Routt.
"That blindsided me," Yeager said about the board discussion this month about wrestling. "We want to develop an alumni association. Wrestling is coming back into this community, and we're trying to get this going to where we have a foundation that will give scholarships to these kids so we can keep the program."
Glance at the high school team's results from recent seasons, and talk of canning the program might elicit a shrug. But a rowdy group of eighth-graders climbed atop a podium Saturday and shouted loud and clear that they want to try their stuff at the next level.
"It's just my sport," said May, who wrapped up an undefeated season Saturday in just his third year wrestling. "I love it."