Photo Gallery
Yampa Valley Regional Airport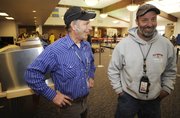 Guidelines
Assistant Airport Manager Dean Smith's guidelines for traveling through Yampa Valley Regional Airport:
■ Parking is not allowed at the front entrance of the airport. The first hour is free in the long-term lot, and there's a 30-minute lot near the front entrance.
■ Show up on time for the flight. During the winter, that's 60 to 90 minutes before the flight is scheduled to leave, Smith said. During the summer, many airlines reduce staffing and will close check-in 30 minutes before departure, he said.
Steamboat Springs — On Friday at Yampa Valley Regional Airport, staff members planned to see 926 inbound passengers and 771 outbound passengers. They planned to see most of those people on seven flights in a period of about 90 minutes.
On a busy Saturday during ski season — especially during spring break or close to a holiday — the employees at YVRA handle more than twice that, Assistant Airport Manager Dean Smith said.
"I had about 3,500 people coming through this terminal," Smith said about March 13. "It's crazy, but it's a lot of fun."
Through each winter, a crew of year-round county employees, seasonal airport workers and airline staff members pushes a high volume of passengers through the Hayden airport in a balancing act of customer service, equipment maintenance and weather watching. As the 2009-10 season draws to a close, many of those employees offered a behind-the-scenes look Friday at how the airport runs.
Dean Smith
Assistant airport manager
From his office overlooking the YVRA runways, Smith can see every flight as it comes and goes. He can listen to every radio and watch every weather sign. With a deep background in aviation, he occasionally gets calls from airline pilots asking for an update on YVRA's conditions.
"They'll actually call from the cockpit on my cell phone on days like today and say, 'Dean, what have you got down there?'" Smith said on a slushy, snowy late-March morning.
A lot of elements go into answering the pilots' question. Smith — along with employees on the ground and in airline operations rooms — keeps an eye on wind direction and speed.
"It's a balancing act out
here, being able to read all these different issues," Smith said.
Once the issues are read, there are different ways to handle them. Friday morning brought wet snow and a temperature in the upper 20s, so there were plows on the runways. If the temperatures dropped and the snow let up, making conditions icy, the airport would put down an anti-icing and de-icing agent, Smith said.
"As long as the planes are on time, I'm in good shape. … There are days when all the planes get here at the same time, and I'll tell you what," Smith said, opting not to finish that thought.
Sandie Johns
American Airlines compliance coordinator
Finishing up her 10th winter season at YVRA, Sandie Johns is rounding out her yearly reunions. As the airport's compliance coordinator for American Airlines, she trains gate agents to handle high-pressure situations, such as adverse weather, and to work through delays.
Passengers who show up late for flights can be the biggest challenge to the job — because generally, people still want to get on the flight, and because often there are few other options, Johns said. American Airlines gate agent Charles Anaya, who was helping board a flight Friday afternoon, said dealing with delayed or canceled flights is his biggest challenge.
Despite the pressure, Johns, a retired teacher, said she's happy to see families and friends who come through the airport a few times each winter.
"You get to be friends with the people who fly," she said.
Clancie Guinn
Landside maintenance
On a snowy ski season morning, YVRA maintenance worker Clancie Guinn can expect a call at one of two times: 2 or 4 a.m.
This season, the snow has been relatively light, so a 4 a.m. call to clear snow from the parking lot, sidewalks or any other surface on the terminal side — or "landside" — of the airport usually allows enough time to have things moving before passengers start to arrive, Guinn said.
But as a fourth-season empl­oyee at YVRA, Guinn remembers winters with much heavier snowfall, including the 2007-08 season, she said.
"We got to the point where we were working about every single day. We'd get called in at different times in the morning, and it was like, 'I don't even know what day it is anymore.' You would lose track of time," Guinn said.
Bobbie Wagner
Transportation Security Administration
About three years ago, bef­ore YVRA completed the second phase of an expansion that will continue this summer, Transportation Security Administration agents at the airport screened every checked bag by hand. Until this season, they screened every ski and snowboard bag by hand.
These days, agents screen bags with the help of top-of-the-line machines. On winter days, when full flights are coming in on a full schedule, they can move as many as 580 bags through the screening process every hour for about four hours.
Behind the ticketing counters in the screening area, TSA agents, such as longtime Hayden resident Bobbie Wa­­­gner, handle that screening process. Wagner has worked for TSA at the airport for seven years, she said.
Saturdays are big during the winter, Wagner said. Sixteen to 18 flights a day bring about 4,000 people through the airport, Smith said.
Storm Fallon, Garet Mixon and Don Riley
Passenger services
Three or four days a week, passengers at YVRA love Storm Fallon. The other three days a week, that might be less true.
Fallon comes to YVRA as a law enforcement officer through the Hayden Police Department. Her duties can include enforcing parking regulations, assisting TSA, helping a lost child or dealing with a drunken passenger, she said.
The rest of the week, Fallon is a skycap responsible for helping passengers with their luggage. On a busy winter day, three or four YVRA skycaps can handle luggage for 1,500 passengers in personal vehicles and airport shuttles, said Garet Mixon, a skycap and redcoat courtesy worker who started at the airport about a month ago.
"During the winter, when the snow's really coming down, it's tougher out here because everyone just wants to get inside," Mixon said. As a redcoat, Mixon also helps passengers find their way around the airport.
Don Riley, supervisor of passenger services, said the goal is to put forward a friendly face.
"The busiest days are the most fun because we get to help more people," Riley said.
Bob Keller
Landside supervisor
At about 10 a.m. Friday, Bob Keller was headed out to the YVRA roof to clear snow off a satellite.
If anything goes awry in the terminal, parking lot, administrative building or anywhere else on the landside, it's Keller's job to fix it.
What happens on a hectic day when there are multiple problems at the same time?
"That's every day," Keller said. If electrical breakers pop or the heating system needs to be put in check, it falls to the landside supervisor to make sure everything stays up and running. Keller handles snow removal during the winter and anything in front of the building in the summer, he said.
James Denker
American Airlines manager at YVRA
A longtime Yampa Valley resident with an agriculture background, James Denker
sta­rted working at YVRA so he would have something to
do during the winter. That was 22 years ago. Since then, Denker has worked with TWA, Delta and other airlines every winter.
Denker now works for G2 Secure Staff, an aviation staffing company that works with American Airlines at YVRA. There are similar staff members at the airport for other airlines. Each group has to work together to make sure roadblocks don't happen — such as getting airplanes to the airport and having nowhere to put them, Denker said.
Denker usually comes in to check the airport's field report for American at about 7 a.m. He handles the operations side until co-worker Kay Wagner comes in a couple of hours later, and he spends the rest of the day making sure outdoor equipment such as de-icing trucks and baggage belts are working. He always keeps an eye on the sometimes-delicate balance of planes coming in and out, he said.
"In a perfect world, it would work, and airlines is not a perfect world," he said.