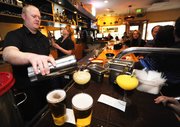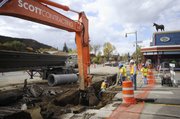 Project updates
Jody Patten, project information manager for Scott Contracting, is providing several sources of information about the downtown repaving project that begins April 5. She will give updates at least daily on the project information hot line, 970-819-7008. A map of the coming week's work zones will be in a newspaper ad each Friday. The map also will be sent via e-mail.
To sign up for e-mail updates on the project, visit www.coloradodot.info and click on the "Sign up for E-mail and Wireless Alerts" link in the upper right corner. Enter an e-mail address, select the appropriate updates and click "Submit." If you already receive Patten's e-mail updates, you do not need to sign up online.
The project Web site is www.coloradodot.i...
Public meetings will be held every other week during construction, at 5:30 p.m. Thursdays in Centennial Hall.
Steamboat Springs — Nick Doyle grinned when asked how he's planning for an upcoming mud season that will include a massive downtown repaving project on Lincoln Avenue.
"We're planning more rooftop parties," he said.
Doyle is a regional manager for The Rio Grande Mexican Restaurant company. He came to Steamboat Springs last week to work with Carmen Welch on plans for the coming weeks. Welch is general manager of the company's Steamboat location on Lincoln Avenue near Seventh Street. She and Doyle said they are taking an aggressive approach to the challenge of the repaving project, which begins April 5 and likely will continue through June 30.
"Our plan is to stay open," Doyle said Thursday. "We want to run some specials and get people in."
Downtown business owners got a good look at the challenges of construction last fall, when Scott Contracting began the project with underground utility work and drainage improvements through downtown. This spring, as impacts of the economic recession continue and ski tourism ends along with Steamboat Ski Area's season, business owners are taking a variety of approaches to the coming weeks.
Scott Contracting is conducting the $5.6 million project for the Colorado Department of Transportation. Work will move in overlapping, three-week phases down Lincoln Avenue, from west to east, twice — once on each side of the street. Side streets will be closed according to the phases, as crews use a giant paver to replace U.S. Highway 40's asphalt surface with concrete through downtown Steamboat. Scott Contracting also will complete related work to curbs, intersections, traffic signals, crosswalks and more.
Tracy Barnett, of Mainstreet Steamboat Springs, said a couple of restaurants could close for remodeling and a few businesses could close for spring break. Mainstreet is working with the Steamboat Springs Chamber Resort Association on promotion plans, fueled by $5,000 from the city for downtown marketing during construction.
"They analyzed what could be the impacts to sales tax and decided to help," Barnett said about city staff and officials who approved the special funding.
Barnett said a sidewalk sale is tentatively planned for Memorial Day as part of an event that could include live music and a rail jam on Seventh Street. The last week of May will be downtown's next iteration of Restaurant Week, she said, with participating restaurants offering discounts and deals. Customers could see that trend throughout the construction period.
"Restaurants are doing deep discounting," Barnett said.
The triple whammy of the recession, mud season and construction could force some businesses to close their doors permanently.
"I have heard there's a handful of businesses closing, and I have heard there's a handful of businesses closing for the mud season," Winona's Restaurant owner Jamie McQuade said last week.
McQuade extended her restaurant's hours during the winter, offering dinner service on some nights to try to compensate for the coming spring. She said the extra effort helped, but only somewhat.
"With the economy being soft and the snow being a little soft this year, it didn't really bail us out," she said.
McQuade said she plans to keep Winona's open this spring, but a giant paver in front of her restaurant on Lincoln Avenue could be an insurmountable hurdle.
"I probably won't close, but when they're directly in front of us, I don't know if we'll have much choice, when they're on this side of the road," she said. "The intelligent thing for me to do would be to just (close). But I don't want to do that to my employees or my customers."
Barnett said signage on side streets and Lincoln Avenue will be important to inform pedestrians of construction zones, pathways and open businesses.
"If it's very clear what's going on, people should be able to get anywhere they need to go," Barnett said.
Jody Patten, project information manager for Scott Contracting, said project crews and staff are fully on board with that goal.
"Our goal for this project is to keep pedestrian access flowing through downtown at all times, so people can get to any downtown business they want, on foot," Patten said.
McQuade and The Rio's Doyle said despite all the planning they can do, there's an element of wait-and-see to the impacts of downtown construction on customer traffic and, ultimately, city sales tax revenues.
"I guess everyone is kind of holding their breath," McQuade said.