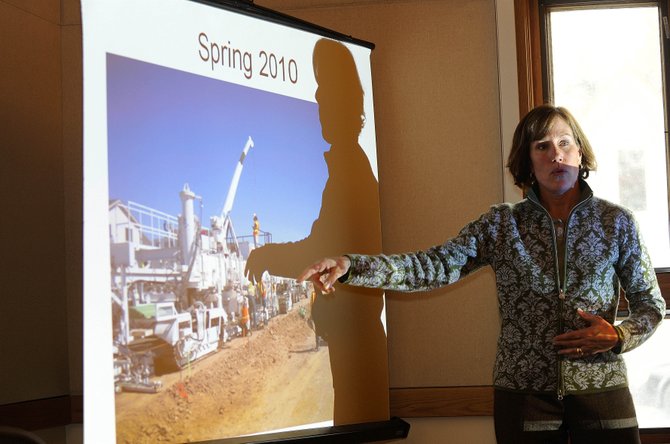 Downtown Steamboat paving project to begin April 5
City, contractors ask for public's help during US 40 work
Learn more
Jody Patten, project information manager for Scott Contracting, is providing several sources of information about the downtown repaving project that begins April 5. She will give updates at least daily on the project information hot line, 970-819-7008. A map of the coming week's work zones will be in a newspaper ad each Friday. The map also will be sent via e-mail.
To sign up for e-mail updates on the project, visit this site and click on the "Sign up for E-mail and Wireless Alerts" link in the upper right corner. Enter an e-mail address, select the appropriate updates and click "Submit." If you already receive Patten's e-mail updates, you do not need to sign up online.
The project Web site is here.
Public meetings will be held every other week at 5:30 p.m. Thursdays in Centennial Hall.
Coming Sunday
Read about how the downtown business community is preparing for impacts of the repaving project on Sunday, in the Steamboat Pilot & Today or at the newspaper Web site.
Steamboat Springs — The U.S. Highway 40 repaving project will result in one lane of traffic in each direction through phased sections of downtown Steamboat Springs starting April 5 and likely continuing through June 30.
The massive repaving and construction project, which will replace Lincoln Avenue's asphalt surface with concrete, also includes installation of storm drains at Third and Fifth streets, a fiber optic conduit for traffic signals, concrete bump-outs at each intersection, colored crosswalks, a new traffic signal at 11th Street, curb and gutter work and more.
Steamboat city staff and employees of Scott Contracting, which is conducting the $5.6 million project for the Colorado Department of Transportation, are asking for the public's help in making traffic manageable from 13th Street to Third Street on Lincoln Avenue while the project is under way this spring.
Help such as limiting left turns.
"The more left turns that are made downtown, the slower traffic will go," Jody Patten, project information manager for Scott Contracting, said Thursday night at Centennial Hall. With one lane of traffic each way through sections of downtown, left turns could slow an entire lane.
Patten and city engineer Ben Beall are encouraging residents to park a block or two outside downtown, carpool, use mass transit — bus stops will remain on Lincoln Avenue, but could be moved to different locations during construction — walk or bike to their destination, and so on, to limit the number of vehicles driving through downtown.
"We're kind of asking people to be good citizens," Patten said.
Residents of Brooklyn and Fairview, especially, could face delays while work is under way at Fifth Street or 13th Street, the primary access routes for those neighborhoods. Patten encouraged Fairview residents to access U.S. 40 via the James Brown Soul Center of the Universe Bridge to Curve Court.
The work will occur in overlapping phases of about three weeks each, beginning between 13th and 11th streets on the north side of Lincoln Avenue. The second and third phases are from 11th to Seventh streets and Seventh to Third streets, also on the avenue's north side. Work will then return to 13th Street and move east in the same sections, on the south side of Lincoln Avenue.
Patten said dates for each phase are not certain.
"We're reluctant to attach dates to it because of the unknowns of weather," she said.
Poured concrete requires about a week of "curing time," Patten said, before it is drivable. That curing time will allow the project's phases to overlap — while one section is curing, crews can tear up asphalt in the next section, and so on.
Crews will use a 36-foot-wide pa­­­­ver that will be brought to Steam­boat in nine tru­cks and assembled on site. Scott Contracting Site Supervisor Cody Patterson said assembly could occur on 12th Street, which will be closed from Lincoln Avenue to Oak Street during the first phase of construction.
Side streets off Lincoln Avenue will be closed to vehicle traffic according to the project's phases. Patten said crews would provide as much side-street parking as possible.
Work begins April 5 and continues until completion or June 30. If the project isn't done by June 30, Scott Contracting will leave a drivable surface on Lincoln Avenue for July and August — when, contractually, no work is allowed — and likely resume work Sept. 1. Patten said the project's latest feasible end date is Nov. 12, after which Scott Contracting will face daily fines for continuing work.
Work will occur from 7 a.m. to 7 p.m. weekdays, with some weekend and night work, as well.
City Public Works Director Philo Shelton said activities that create excessive noise are not allowed at night.
"The big thing we didn't allow in the contract with CDOT is jackhammering at night — but they could pour the concrete at night and do a lot of other activities," Shelton said. "Actually, that would be our preference. … With all the trucks it takes to deliver that concrete in a timely fashion, you want to do it when there's no traffic."
Patten said weather would be the biggest factor in the project's timetable for completion because of rain's impact on newly poured concrete and the construction process.
"If we face weather, it's going to be really tough," Patten said.