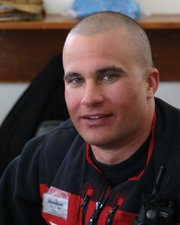 If you go
What: Cody's Challenge Randonee Race
When: 8 a.m. April 3
Where: Steamboat Ski Area
Cost: The event costs $40 for ski area season pass holders and $80 for those needing a lift ticket.
Other: Registration is from 4 to 6 p.m. April 2 at the Ski Patrol Locker Room and from 7 to 7:45 a.m. April 3 before the start of the race. A post-race party is at 5:30 p.m. at Bear River Bar and Grill.
Visit: www.whatwouldcodydo.net
It's not a Steamboat thing. It's a ski patrol thing, Kyle Lawton said.
"Ski patrollers, whether it's here or anywhere in the nation, it's a super tight type of thing," Lawton said. "It's a super tight community."
And when something happens to someone in that community, as it did in April 2007 when Steamboat patroller Cody St. John was killed in a car accident, it's not a group likely to forget.
St. John, a popular ski patroller in Steamboat Spr­ings, will be remembered again this year with the second annual Cody's Challenge Randonee Race at 8 a.m. April 3 at Steam­boat Ski Area.
"We don't see many patrollers die and we had one who did who was an amazing man," Lawton said. "I just wanted to put something on so every year we have an event where he's remembered."
Those who knew him said the Randonee event has proven particularly accurate as a memorial event for St. John.
A Randonee race is a backcountry ski event that, in this case, will take place on the slopes of the ski area. But that doesn't mean it'll be easy.
It involves following a mapped route up and down the ski area's runs.
The race will send skiers and snowboarders up from the top of the gondola, climbing to the top of Mount Werner, then on a grand tour of the ski area, cutting down and climbing up a route that eventually will end at a Bashor picnic area finish line.
Last year, a fierce windstorm led to a last-minute change to the course. The event started at the top of the Christie Peak Express chairlift, resulting in an additional 1,100 feet of climbing.
"What I remember other than the winds is how my heart was racing," said Corinne St. John, Cody's sister who helped organize the event and hopes to compete again this year. "There was this inner desire just to finish and to have that sense of accomplishment."
She's planning on again sticking with a snowboard to tackle the mountain course, a far cry from her regular Saturday, spent in New York City where she's an interior designer.
"It's hard coming up from sea level and then being at 7,000, 8,000 or 10,000 feet," she said. "But I'm an athlete. Being from the East Coast, we don't necessarily have a lot of Randonee things going on, but I am an avid road biker and a pretty avid outdoors girl. If I can participate in something that has to do with being outside, I'm game."
That, she said, is what makes the event such a great way to remember her brother.
"We all get to get outside, we get to work really hard and at the end of the day, it's all about celebrating Cody's life," she said.
The event will cost $40 for those who have ski passes and $80 for those who need a day's lift ticket.
The money raised, like the event itself, will go to a program that St. John likely would have been proud of. The Cody St. John Foundation grants scholarship to ski patrollers working to further their medical careers. St. John was doing just that, which was why he was driving on Colorado Highway 127 toward the Wyoming border April 2 when he was involved in an accident with a logging truck. He was traveling to his nursing program orientation at the University of Wyoming.
He died six days later.
Organizers hope this will be a big year for Cody's Challenge. They hope for better competition than there was last year, more racers, and enough money to secure the foundation for years to come.
Times will be kept — Lawton is the defending champion — but that's far from the reason for the event.
"It's really nice to have one day where we can remember Cody, his foundation and his family," Lawton said. "This is for his remembrance. This is saying, 'Here's to our buddy.'"