Take a trip
There are many choices for grizzly-watching trips on the Alaskan Peninsula. Some of the most highly recommended ones include:
■ From a comfortable lodge: www.alaskahomesteadlodge.com
■ From a boat: www.katmaibears.c...
■ From a drop camp: www.goseebears.com
Professional landscape and wildlife photographer Don Tudor plans to offer an Alaskan Bear Photography Trip this summer. The adventure will take place from Aug. 23 to 29 in Lake Clark National Park. The group will be limited to six people. The cost is $3,800 a person from Anchorage, with a $1,900 deposit. Most of the four full days in Lake Clark National Park will be spent photographing and viewing bears during the annual salmon run feeding frenzy. Tudor and his staff also will provide photography tips and training. For more information, e-mail don@dontudorphoto...
Visit Don's Web site here.
At Home, Spring 2010
This story appears in the Spring 2010 edition of At Home in Steamboat Springs magazine. Find the magazine in racks across Steamboat. View the online edition of the magazine here.
Photo Gallery
Don Tudor's Alaskan grizzlies trip

Wildlife photographer Don Tudor shot these photos while in Alaska in 2009.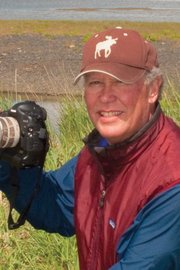 The Cessna 206 roared as the plane dropped quickly through the clouds and over the cliff while our pilot, Stephanie Anderson, lined up for a landing on the deserted beach. The fog was thick — too thick to land at our camp on the Alaska Peninsula — so the plan was to set down a safe distance away and wait it out.
Other than the fog bank over camp, it was a perfect day for flying. Puffy clouds dotted the sky and added drama to the landscape. I kept my camera lens tight to the scratched window and the shutter clicking as volcano after volcano drifted by beneath the wing struts.
I was traveling with my wife, Cully Kistler. Our destination was a camp in a remote area of Katmai National Park, an hour flight from Homer in the single-engine bush plane and 300 miles from the nearest access road. Our purpose was to view, photograph, paint and learn all that we could about brown bears in the five days we would be at Hallo Bay Camp. The camp is less than 20 miles from where Tim Treadwell — "The Grizzly Man" — and his girlfriend Amie Huguenard were killed by bears in 2003.
I had not been to Alaska since 1995, when I drove up the Alcan Highway with my 16-foot self-bailing raft and what seemed like a ton of river gear. With a few adventurous friends, we had slipped into the Tatshenshini River south of Haines Junction and floated 150 miles to the Pacific Ocean. It was the kind of expedition that I had dreamed of for many years, and I wasn't disappointed. From the day I returned home to Steamboat Springs, Alaska had been calling me back.
Hallo Bay is to the north of Kodiak Island across the Shelikof Strait and southwest of Homer, where you will find a seemingly endless list of historically active volcanoes. From our bush plane we could see Redoubt, Iliamna, Augustine, Douglas, Fourpeaked and Kaguyak. I took a photograph one day of Cully sitting and painting next to a huge boulder that had been thrown 50 miles when Novarupta blew in 1912, leading to the formation of Katmai National Park.
I think that is what draws me to Alaska. The forces that shaped the landscape here in Colorado more than 10,000 years ago are still hard at work in this wild land to the north. The glaciers continue to grind away; the rivers are steep and fast; and the wildlife is, well, wild.
We visited Katmai National Park the third week in June with hopes of catching the grizzly sows bringing their spring cubs down from their winter dens for the first time. The rich abundance of plant life and seasonal salmon runs combine to make this area of the Alaska Peninsula among the best brown bear habitat on the planet. After the winter hibernation, the bears are lean and hungry. The common food sources are sedge grass, horsetail, wild celery and razor clams. The malnourished bears need to consume a tremendous amount of food each day to give them the calories needed to regain the weight lost during six months of dormancy. The protein- and fat-rich coho salmon won't show up until mid-August.
When the tide is out, the bears converge on the tidal flats to dig and gorge themselves with the clams. And they aren't the only ones — the wolves and foxes enjoy the clams, too. Late June is also the tail end of mating season. The first two days at camp we watched a sow with two yearling cubs. They were usually on the tidal flats digging clams and taking naps. The larger cub, probably a male, would dig his own while the smaller of the two was very content to let mom do the work. On the third day, a large older male bear showed up and the mother and her cubs seemingly disappeared. The sow moved the cubs to a safe place, and for good reason. A male bear can and will kill them given the opportunity. Less than half of grizzly bear cubs survive their first few years.
Most of the people that I talk to in our Sleeping Giant Gallery in downtown Steamboat Springs think of bears, especially grizzlies, as unpredictable, man-eating predators. But an in-depth study conducted through 1985 revealed some interesting facts. From 1900 to 1985, 20 people were killed by bears in Alaska. During a 10-year period from 1975 to 1985, 19 people were killed by dogs in Alaska. I think I'll take my chances with the bears.
It is widely accepted by people who spend a lot of time around bears that if you do not surprise them, make them aware of your presence, and respect their needs and behavior, you are in little danger when around them. Give them the opportunity and the space to do the right thing, and they usually will.
Making bears aware of your presence is not always as easy as you would expect. One afternoon we were walking down the beach into a stiff headwind. The wind was strong enough to blow sand into the air. Suddenly, two bears came running out of the bush straight for us at a high rate of speed. Brown bears can run as fast as 40 mph, and they had no idea we were there. Waving our arms, and later our jackets, we finally got their attention, but not until they were practically on top of us. One dove into the bush to our right, the other ran to the edge of the surf on our left. Feeling somewhat like a highway divider, the bears blew by us, met back up and proceeded along as if we were never there.
The extended hours of daylight at 58 degrees latitude are one of the highlights of summer trips up north. On the summer solstice, we watched a large brown bear graze on horsetail, totally aware of our presence, to within 10 yards of us without much more than a glance in our direction. The sun was setting with warm glowing light dancing on the surf and rock outcroppings. I glanced down at my watch. It was 11:30 p.m. If you are planning a summer trip to Alaska, stock up on sleep before you go, because you won't find much of it up there.
Hallo Bay Camp (www.hallobay.com) has been in operation for more than 20 years. The camp itself consists of 10 tents of various sizes. The only wooden structures are the shower, bathroom facilities and the shed that stores the tent fabrics over the winter. There is no barrier around the camp so the bears are free to wander through as they please. The galley tent is the social center where we ate our meals and hung around when it was raining or we needed to rest up before the next hike. The camp cook was Morty Miller, and she spent the entire time the galley was open — from 7 a.m. to 10 p.m. — cooking and baking. She, of course, made everything from scratch, and her skills were impressive. The one food item that is not available at camp is seafood. Bears associating humans with salmon or clams would be a bad idea. The galley had electricity, but it was available only for the camp operations. If you wanted to download your photographs, you had to run your laptop on the batteries.
We typically went out for a hike twice a day, and each hike was about four miles. Some days there were bears clamming directly in front of camp. Other times we saw them near the base of the cliffs at The Bootleg, and of course, in the meadow. One day going through the bush on Nancy's Trail, our guide DeWaine Tollefsrud, an entomologist, was pointing out the plants and insects when I noticed a bear 20 yards ahead. If you think bears look big in the open, wait until you see one at this range in the thick bush. I mentioned to DeWaine that a bear was right in front of him, which surprised me because he was in the lead and I was bringing up the rear. He was new at bear guiding and was unsure exactly what to do. The guides at the camp do not carry guns. They believe the best deterrent to an aggressive bear is a flare. The goal is to put a wall of smoke and flame between the two of you. Cully told DeWaine the bear appeared not to be bothered and we should step off to the other side of the trail and let it pass. Good idea, Cully. It worked perfectly. DeWaine and our other guide John Havey were both very likeable. John was in his second year of guiding and always was sure to keep an eye on our backside. That's a nice feeling when occasionally you can be surrounded by bears and wolves, foxes and eagles.
Wild animals and raw nature. That's Alaska, and it continues to call me back.
About the author: Don Tudor is a professional nature and wildlife photographer based in Steamboat Springs, which he has called home since 1969. He and his wife, Cully Kistler, own and operate Sleeping Giant Gallery at 601 Lincoln Ave. in downtown Steamboat. Visit www.dontudorphotography.com for more information.