At Home, Spring 2010
This story appears in the Spring 2010 edition of At Home in Steamboat Springs magazine. Find the magazine in racks across Steamboat. View the online edition of the magazine here.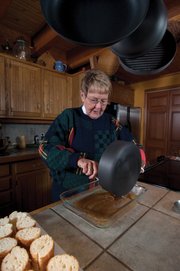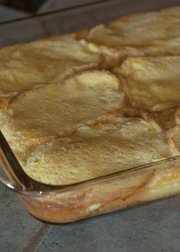 Ingredients
1/2 cup unsalted butter
1 cup packed brown sugar
2 tablespoons light corn syrup
8 pieces of bread (cook's choice; Gill favors challah or another egg-rich bread)
5 large eggs
1 1/2 cups half-and-half, or substitute 3/4 cup 2 percent milk and 3/4 cup half-and-half
1 teaspoon vanilla extract
1 teaspoon orange liqueur (Gill recommends Grand Marnier) or substitute 1 1/2 teaspoons orange extract
Preparation
Melt the butter over medium heat. Add brown sugar and corn syrup. Mix until the sugar is dissolved. Pour the mixture into a 9-by-13-inch baking dish.
Arrange bread slices in the pan in a single layer.
Whisk together eggs, cream or milk, vanilla and orange liqueur or extract.
Pour the egg mixture over the bread and cover the dish. Chill for at least 8 hours or overnight.
Preheat oven to 350 degrees Fahrenheit. Remove the dish from the refrigerator and bring to room temperature.
Bake uncovered for 35 to 40 minutes, until puffed and lightly browned.
Roberta Gill's crème brûleé French toast is deviously simple and unbelievably good.
Put some butter and sugar on the burner and let it become caramel. Whisk together some eggs and milk. Pour caramel in a pan, put bread on top, drench with eggs and milk, wait a bit, and bake.
But once the sweet and rich concoction comes out of the oven, it melts into a savory complexity that says "home cooking" and "I am a treat to be enjoyed only occasionally."
Gill learned to bake and cook as a child growing up in the Midwest, spending much of her time in her grandmothers' and mother's kitchens. In her Steamboat Springs kitchen, Gill keeps her grandmother's measuring cup on hand and occasionally picks recipes out of family heirloom cookbooks that have been yellowed by the decades.
Subbing in an oven-safe baking dish or the usual oven-heated skillet, Gill's French toast swells up like a soufflé as it bakes for 35 to 40 minutes. In the cooking process, the caramel gets deeper and darker in flavor, combining with an egg and cream mixture to form a bread covering that packs toast, butter and syrup in each bite. This brunch item needs at least 8 hours of make-ahead time, but it is worth the wait.
The dish starts with a loaf of good-quality bread. It's up to availability and the cook's tastes what to use, Gill said — she prefers challah, an egg-rich bread traditionally enjoyed on the Jewish Sabbath. Bringing its own flavor to the party, challah has a texture that stands up to many cooking preparations. Gill slices the bread in advance, giving it time to dry out to soak up the tasty egg mixture later.
When she's ready to cook, Gill gets a simple sauce going on the stovetop, keeping a mixture of butter, brown sugar and light corn syrup moving until it takes on a medium caramel color. Moving the sugary sap off the heat, Gill is ready to whip up eggs, cream and Grand Marnier orange liqueur.
A dietician who spent years with the Steamboat Springs School District and now works with Yampa Valley Medical Center and the Northwest Colorado Visiting Nurse Association, Gill has a couple of substitutes handy to keep her recipe from going over the top. Two-percent milk can take away some of the creamy burden of half-and-half, and orange extract can stand in for Grand Marnier. It's all up to the cook, Gill said.
Once the ingredients are ready to go, Gill upends her pot of caramel into the baking dish. After it oozes across the pan to coat, Gill arranges her bread slices in a single layer. Her Midwestern upbringing doesn't allow much to go to waste, so any small pieces that have crumbled in slicing get wedged into the mix, leaving just enough space for the eggs to expand.
The egg and cream mixture goes over the bread slices. Gill covers the dish in plastic and lets it sit for at least 8 hours. Tackle the preparation the night before a big day of skiing or hiking, and the bread will be ready to bake while the cook prepares for the day, she said.
Coming out of the oven, this French toast looks like a French pastry, oozing caramel and enjoying a few moments of soufflé glory. Powdered sugar and additional syrup are nice garnishes, but the finished product is plenty sweet on its own.
As a dietician who likes to stick to her own advice, Gill doesn't eat like this on a regular basis. But for a once-in-a-while treat, baked French toast with a side of maple-infused bacon is hard to beat.