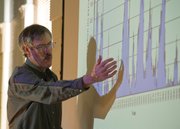 For more information
To learn more about the Colorado Climate Center and find records of Colorado weather and climate, go to http://climate.co.... To learn more about the Routt County Cooperative Extension Office and the Colorado State University Cooperative Extension master gardener program, go to this site and click the "cooperative extension" link in the list on the left side of the screen. The U.S. Drought Monitor is at this site.
Steamboat Springs — State climatologist Nolan Doesken outlined the intricacies of Routt County's climate to a gathering of about 30 gardeners Wednesday afternoon, in a presentation that offered explanations for those cold nights that can make gardening tricky.
A guest speaker at the Routt County Cooperative Extension master gardeners meeting,
Doesken pointed out the approximately 1,500-foot range in elevation gardeners work with in different parts of Routt County, offering key points that "make Colorado's climate the curiosity it is," he said.
"Climate not only varies where you go, but it also varies over time, and that's one of the great challenges you face and deal with," Doesken said.
Doesken has been the Colorado state climatologist for four years and was assistant state climatologist for 28 years. He's based at Colorado State University's Colorado Climate Center in Fort Collins.
High elevation, a mid-latitude, mid-continental placement and complex mountain topography make each growing season and each area of Colorado different, he said. The mountains experience less variation than the Front Range, but there still are strong seasonal changes and a possible 40-degree swing in temperature during a Routt County summer day that pose challenges to gardeners, Doesken said.
"You have certain things that just aren't going to work without a whole lot of help," he said. Many plants need moderation of those conditions and a cushion on the number of frost-free days available during each growing season, he said.
"You get this window almost every year from somewhere around the Fourth of July to somewhere around the end of August where you have pretty good weather, and it might stay above freezing — it won't for sure, but it might — for maybe for five or six weeks. And that's what's called your growing season," he said.
Added to those challenges are variable precipitation levels. Routt County has relatively little variation in snowfall year to year compared with the southern part of the state, Doesken said.
Still, this year has been off.
"The snow accumulation has been sufficiently abnormally low, and the end of last summer was sufficiently hot and dry … that we can now consider this a moderate drought for a small area here," Doesken said.
According to the U.S. Drought Monitor — a tool run by the University of Nebraska-Lincoln's National Drought Mitigation Center — most of the southern part of Routt County was experiencing moderate drought conditions as of Tuesday. The northern part of the county is listed as "abnormally dry." Moderate is the second highest rating on the five-part U.S. Drought Monitor scale; severe, extreme and exceptional are the top three ratings.
Doesken also briefly discussed the possibility of climate change trends in Routt County and Colorado. Data from Routt County has been gathered from too many different weather stations to determine any long-term trends, he said.