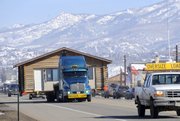 Online
For more information about the En Gedi Retreat, photos and videos, and a list of all the businesses that contributed to the move, go to www.engediretreat.org.
Steamboat Springs — On the first corner, turning right onto U.S. Highway 40 from Dougherty Road at River Place, Carl Walker's entourage hit a small snag. The building they were hauling, a 24-foot square modular, brushed up against the trees on the side of the road. The branches crackled as the workers anxiously watched the building squeeze past, but the house made it through the intersection with no problem.
Driver Jim Debevec, a professional wide-load mover, turned right onto U.S. 40 and drove all the way down Colorado Highway 131, through the curves of the Oak Creek Canyon and over the narrow Phippsburg bridge to the Fish and Cross Ranch outside of Yampa.
For Walker, it was a big step in a multiyear project to create the En Gedi Retreat, a place for pastors and missionaries to stay for free and relax in South Routt County. Walker said the retreat was a way to avoid pastor burnout, caused by long hours and the tendency of people to put pastors on a pedestal, and thus expect much more of them in every aspect of their lives.
"They're all just real guys, not super holy or above everyone else," Walker said. He said it's sometimes overlooked that their children get in trouble at school, they have problems in their home lives, and sometimes they need a vacation like everyone else.
The nondenominational En Gedi Retreat offers free lodging for pastors or missionaries, with use of the Fish and Cross Ranch donated by the owners.
The pastors or missionaries, who have come from Texas, Illinois, Wyoming and Mexico, among other places, pay their own transportation and bring their own food. En Gedi pays for the upkeep of the building and encourages families to relax at the ranch.
The retreat had been using the guesthouse at the ranch, but the addition of the new building Friday is a step toward making the retreat self-contained.
Butch Dough­erty donated the building after he talked with Walk­­er on an airplane. Crews lifted the modular off its foundation in No­­vem­­ber, and Walk­­er has been raising money for the move since then. Before the move, Debevec, working with his son DJ, measured every crossing from Steamboat Springs to Yampa. Debevec said he went over the route for two weeks. The bridge in Phipps­burg is narrow, so Debe­vec figured out how to use hydraulics on the truck to lift the entire house over the guardrails on the side.
On Friday, with three Colo­­rado State Patrol troopers, two guide cars and Walker following in his pickup, the move finally happened during 2 1/2 hours.
Walker said the next step was to get the foundation at the new site finalized and place the building on top. It should be ready in six to eight weeks, he said as he stood in front of the building before the move. Then he laughed. "But if you had asked me that last year, I would have said the exact same thing."