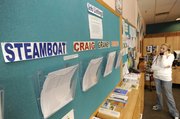 Steamboat Springs — Unemployment increased from 6.2 percent in December to 6.8 percent in January in Routt County, according to figures from the Colorado Department of Labor and Employment.
The number of people without jobs increased from 922 in December to 1,049 in January. The 127-person increase still is less than the increase in the size of Routt's labor force, however. The county had 14,815 people in the work force in December and 15,476 in January — an increase of 661 people. The figures provided are not adjusted for normal seasonal changes.
"The labor force went up so much, that could have been the cause of the unemployment rate going up," said Matt McLeod, an employment specialist at the Steamboat Springs branch of the Colorado Workforce Center.
McLeod said more people were coming to Steamboat with hopes of finding work amid the ski season.
"We had a lot of people coming in expressing that they had moved into town and this was where they came to look for work," he said.
In January 2009, the labor force was 16,519 people. Of those, 15,667 had jobs and 852 did not, for an unemployment rate of 5.2 percent. In January 2010, 14,427 people had jobs. That's a year-over-year decrease of 1,240 Routt County jobs.
Statewide, the unemployment rate was 7.4 percent in January, an increase from 7.3 percent in December. The nation's decreased to 9.7 percent in January from 10 percent in December. Those numbers are adjusted for typical seasonal changes.
"While the unemployment rate may be volatile throughout 2010 as Coloradans re-enter the labor force, we expect to see the job market strengthen," Donald Mares, executive director of the Colorado Department of Labor and Employment, said in a news release.
December's numbers changed slightly from information re­­leased in January. That showed a 6 percent unemployment rate in Routt County, rather than the 6.2 percent figure. Labor Department spokesman Bill Thoennes said that was because numbers are sometimes adjus­ted as more accurate information comes in.
"It was technically a preliminary number, subject to a little change," Thoennes said about the earlier figure.
The new information shows 922 people unemployed in December, compared with the 929 originally reported. The labor force number was adjusted from 15,395 to 14,815.
The unemployment rate increased in 60 of Colorado's 64 counties, decreased in two and remained unchanged in two, according to the release. The lowest rate was 3.3 percent in Cheyenne County and the highest was 18.1 percent in Dolores County. Those figures aren't seasonally adjusted.
McLeod said the Workforce Center continued to see most job losses in construction.
"Anything related to that seems to be the big one," he said. "A lot of people are coming in and saying they haven't seen it like this in years and years and years."
Jobless rates varied in other counties with ski resorts. In the area including Eagle County, where Vail is located, the unemployment rate was 7.5 percent in January, up from 7.2 percent in December. In Pitkin County, where Aspen is located, unemployment was down from 5.5 percent in December to 5.1 percent in January.
To combat unemployment, the Workforce Center is offering business entrepreneurship classes with Colorado Mountain College, as well as training through the Hire Colorado program and vouchers for Micro­soft's Elevate America program. Elevate America teaches Microsoft programs such as Excel and PowerPoint.
"There's been a lot of interest lately on those," McLeod said. "It seems to be in these days people want to update their computer skills they never thought they would need."
On the bright side, he said the center's list of available jobs is lengthening.
"The jobs are growing, so that's a good sign as far as recently."