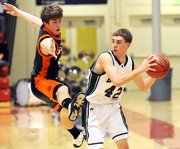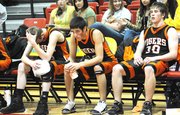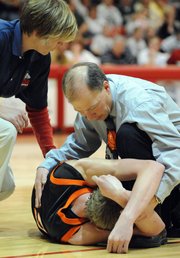 If you go
What: Class 2A state basketball tournament, Hayden vs. Lutheran Parker
When: 10:45 a.m. today
Where: Massari Fieldhouse, Colorado State University-Pueblo
Game statistics
Holyoke Boys 50, Hayden 36
Hayden 6-19-9-2 — 36
Holyoke 7-17-13-13 — 50
Hayden — Graig Medvesk 4 2-2 10, Rene Valdez 2 0-2 4, Dylan Sather 0 1-2 1, Raul Valdez 3 0-0 9, Ben Williams 1 0-0 2, Murphy Smartt 5 1-0 10. Totals 15 3-7 36.
Holyoke — Reid Baumgartner 1 0-0 3, Ryan Baumgartner 2 5-6 10, Kyle Carper 5 3-5 13, Logan Krueger 1 1-3 3, Brian DeBoer 2 0-1 4, Evan Swanson 6 0-0 17. Totals 17 9-15 50.
3-pointers: Hayden (3) — Ra.Valdez (3). Holyoke (7) — Swanson 5, Re.Baumgartner, Ry.Baumgartner.
Pueblo — It was just 1 point for a while, then, for even longer, Hayden trailed Holyoke in the first round of the Class 2A state tournament by 3 points.
That's no mountain. Ag­­ainst most teams it isn't, anyway.
Hayden pushed and prodded the highly regarded Drag­ons and even had a 6-point lead late into the third quarter Thursday in Pueblo. In the end, Holyoke showed why it's been one of the state's most successful programs for the past decade.
The team got a small lead and masterfully whittled the time away, finishing with a flourish to win the game, 50-36.
Hayden falls to the consolation bracket and will play at 10:45 a.m. today against Lutheran Parker.
"Offensively, we started to get impatient. We weren't setting screens like we had been earlier," Hayden coach Mike Luppes said. "They probably had a lot to do with that. Holyoke, they're a really tough team."
Hayden was so good through so much of the game, but the defining stretch came late in the third quarter and throughout the fourth.
Hayden went up 6 when Rene Valdez scored with 3 minutes, 2 seconds remaining in the third quarter.
Holyoke answered with three consecutive 3-point shots from senior Evan Swanson, the second tying the game at 34 and the final coming as the third-quarter buzzer sounded to give the No. 2-seeded Dragons a 37-34 lead.
Hayden's Graig Medvesk scored quickly in the fourth with a steal and a layup, but that proved to be the high tide of Hayden's offense.
After that, the Tigers traveled and threw the ball away. They got tied up and lost the ball to the possession arrow, and they were whistled for offensive fouls. They took quick and bad shots.
Pretty much the only thing they didn't do was score.
In fact, the team didn't score again in the game as Holyoke slowly wrapped up a spot in the tournament's semifinals with its deliberate, slow python style, squeezing the life out of the Tigers.
"That's our game," Holyoke coach John Baumgartner said. "We struggled offensively before that. Give Hayden a lot of credit. But we were still confident."
So much of what had worked early in the game was no longer an option.
Holyoke schemed to shut down Hayden's Raul Valdez, the team's "secret weapon" who hit three 3-pointers in the second quarter to keep the game close.
He didn't score in the second half.
Tigers senior Murphy Smartt, who overcame a knee injury sustained in the regional championship to play well — he had 10 points to share team high-scoring honors with Medvesk — finally succumbed to that injury with four minutes remaining in the game. He collapsed to the floor, and his shouts of pain echoed through the gymnasium.
"After Murph went out, that took the air out of us," Luppes said. "He was playing at about 80 percent, and him at 80 percent is still pretty good."
His status for today's game is uncertain.
At its best, Hayden proved every bit the match for Holy­oke, which was playing in its seventh state tournament in eight years. The Tigers dominated the boards in the first half, holding a 21-10 rebounding edge after 16 minutes.
Medvesk drove the lane, and Hayden controlled the pace.
The Tigers also controlled Holyoke's top players. Senior guard Ryan Baumgartner scored just twice in the first half, and senior forward Kyle Carper had 6 points in the first two quarters.
Hayden never could contain Swanson, however, and he ended up with a game-high 17 points.
"We did what we talked about all week. We did a good job on their best kids," Luppes said. "We knew they had good shooters, but it was a pick your poison situation. The kids we wanted to make sure didn't score against us, we did good there."
In the end, it was the Dragons and their big-game experience that rose to answer the pressure of the state tournament.
"That's what you want to do, to play hard and leave it all out on the court," Luppes said. "Unfortunately, that's when it's the most disappointing when you lose."