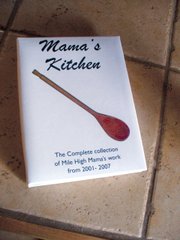 For more
"Mama's Kitchen: The Complete Collection of Mile High Mama's work from 2001-2007" is available in Steamboat Springs at Epilogue Book Co., Off the Beaten Path Bookstore, Little Moon Essentials and Bud Werner Memorial Library. The book is available in Oak Creek at Spiro's Tradin Post, The Mugshot and Bonfiglio Drug.
A book signing party with publisher Paulie Anderson featuring snacks from the book is at 6:30 p.m. March 18 at Epilogue. Call 879-2665.
For more information, e-mail Anderson at deviant@springsip....
Steamboat Springs — Before they settled down, Paulie Anderson and his brother, David, had a tendency to roam.
They would end up in far-off places, following an adventurous spirit, sometimes to their mother's duress, to an Alaskan wilderness or a Pacific island.
"We would end up in strange corners of the world. She would send us care packages with monster cookies and a $20 bill," Paulie Anderson said.
Monster cookies, as Paulie Anderson remembers them and bakes them, are a flourless oatmeal concoction filled with butterscotch, milk chocolate and semisweet chips, topped with M&M'S candies.
They're among the all-time favorites of the recipes Paulie Anderson's mother, Jean An­­derson — or as readers of The Local from 2001 to 2007 might know her, Mile High Mama — cooked and put into print.
Those cookies will almost certainly make an appearance at the book signing party Anderson is planning for March 18 at Epilogue Book Co., he said. Celebrating "Mama's Kitchen: The Complete Collection of Mile High Mama's work from 2001-2007," the party features a recently released book that catalogues all Mile High Mama's published recipes and columns.
The cookbook includes more than 100 columns and about 100 recipes Jean Anderson wrote during seven years of submitting articles to the alternative newspaper her son co-owned for eight years.
Mile High Mama
In her years writing for The Local, Jean Anderson never wanted anyone to know she was the publisher's mom. Not wanting "anyone to think I was a mama's boy," Paulie Anderson said, she chose the Mile High Mama moniker and wrote articles under it.
For each column, Mama coupled a story from her life with a recipe.
"She writes a lot like she speaks, so it's really like having a woman telling you stories of growing up in the deep South or of raising her boys in Colorado," Paulie Anderson said.
Her "Bronco Beans" recipe — a thick chili-style blend of hamburger meat, four kinds of beans, seasoning and sauce — comes with a profession of devotion to the Denver Broncos.
A recipe for homemade pimento cheese is paired with a column titled "Food Bullies," which includes a feisty explanation for Mama's unwavering devotion to Miracle Whip over Hellman's or any other full-bodied mayonnaise.
There are stories about growing up cooking for siblings who were 8 and 12 years younger; stories about spending her childhood in Hugo, Okla., a little town in the southeast corner of the state; and stories about Mama's high school home economics class, which she describes as "a test of endurance."
"They were the kind of stories that you wanted to remember after hearing them," Paulie Anderson said.
Trying something new
To follow those seasonal stories and still function as a cookbook, "Mama's Kitchen" is organized by volume, with columns logged in the order they were printed. The table of contents lists recipes by the type of food — main dish, salads, sweets, etc. — and gives the column number.
"It was so autobiographical that chronological was the only way that I could think of that would work because of her writing style," Paulie Anderson said.
In her professional days, Jean Anderson was an English teacher with the Denver schools. She was always a fan of poetry, and her liking of rhythm came through in her columns, Paulie Anderson said.
After cataloguing all Mama's columns and recipes into a scrapbook for a Christmas present to his mother in 2008, Paulie Anderson kept making copies. Two years later, the scrapbook has become "Mama's Kitchen."
"Her only request would be that it be in a format that would stay open … like the old-school 'Joy of Cooking' or 'Better Homes and Gardens' that she grew up with," Anderson said. So, Anderson found a publisher that could print the book in an easy-to-use, small three-ring binder.
Always picky about who she let into the kitchen, Mama reflects in her stories her upbringing and her desire to try new tastes.
"She inflicted lots of food on us growing up. We had a diverse menu. So many people get 10 meals they have over and over, but she was always trying something new," Paulie Anderson said.
Epilogue
Mile High Mama contributed columns to The Local until November 2007, when she went to the doctor with a case of pneumonia and was diagnosed with lung cancer.
"She didn't know she was dying," Paulie Anderson said. After her diagnosis, Mama tried to write a column to say goodbye, but with failing energy, wrote a letter instead. That letter to friends, written on Jan. 12, 2008, is the last thing Mile High Mama wrote and is at the end of "Mama's Kitchen." She died two weeks later.
Paulie Anderson's farewell column celebrating Mile High Mama's run and revealing her identity is the book's epilogue. In the book's usage instructions, Anderson has this to say about Mama's from-the-pantry style of cooking:
"Though she was a more traditional cook than these TV chefs practicing molecular gastronomy, she could have gone toe to toe with just about any of them in variety and edibility."