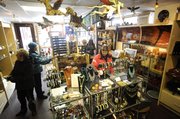 Ski Corp deal announced
Steamboat Ski and Resort Corp. announced last week its "Springa­licious 4-Pack Pass," an offer for four days of skiing April 2 to 11 for $99. The deal also includes free Friday afternoon skiing April 2 and 9, meaning buyers could ski free on those afternoons and for an additional four days within the time period for the $99 cost. The 4-Pack is available only on the Web at www.steamboat.com and must be purchased 24 hours before the first day of skiing with the pass.
"We'll be marketing this very aggressively to the Front Range," said Andy Wirth, Ski Corp.'s senior vice president of sales and marketing. Wirth noted that the deal coincides with Springalicious events at the end of the ski season and with Steamboat's Hometown Heroes Celebration for local Olympians, slated for 6:30 p.m. April 2 downtown.
"We're packing a great deal into that April 2 to 11 time frame," he said. "We think we'll be able to finish (the ski season) with a true bang."
Steamboat Springs — Efforts are under way to revive business activity at the base of Steamboat Ski Area, but some establishments are struggling to bridge the gap until those efforts pay off.
Base area businesses have taken a series of blows this winter. City officials announced last week that base area sales tax revenues dropped about 10 percent in January compared with January 2009, falling to $598,860 compared with $664,287 a year ago. Last month, facing a difficult lending market, members of the Urban Renewal Authority Advisory Committee agreed to delay issuing bonds for base area improvements in the 2011 construction season. Those improvements include completion of a horseshoe-shaped promenade at the immediate ski base and the daylighting of Burgess Creek.
Also last month, the Steam­boat Springs City Council approved conceptual plans for the redevelopment of Ski Time Square but gave developer The Atira Group six years to submit final plans. Atira had asked the council for 10 years, and the timetable for redevelopment of the key location is uncertain.
All this comes during a winter mired in an economic recession and in which less than 200 inches of snow had fallen on Mount Werner as of Friday afternoon.
City Council President Cari Hermacinski stated the situation frankly Tuesday night.
"We have a base area that's in shambles," she said during a discussion about allocation of city funds.
Thursday in Ambiente Home Accents & Gifts, co-owner Vail Kozatch described the atmosphere in Torian Plum Plaza as "very lonesome" and said her customers mostly are locals or visitors who already knew about the store.
"Nobody comes this way," she said. "The accidental tourists do not exist."
But there's optimism for short- and long-term revival.
Steamboat Village Brokers principal David Baldinger Jr., co-chairman of URAAC, said last week that the committee would have clearer information about its financial situation March 18, after clarification of variables related to county property tax increments used to finance base area improvements.
"I believe that the amount of money the URA will have to use in construction season 2011 is more than we thought last month … but still less than the need for everything we've planned," he said Thursday.
Work on the promenade is slated to continue this summer. Baldinger and Andy Wirth, senior vice president of sales and marketing for Steamboat Ski and Resort Corp., said the impacts of that amenity should not be underestimated.
"If the promenade is up and running, it's definitely going to have a positive effect on the retail experience," Baldinger said.
Karen Riggio, manager of Vintage Bar in Torian Plum Plaza, agreed with that notion. She said the wine and cocktail bar adjacent to Terry Sports is "getting its feet wet" since opening last month and welcomed the prospect of the promenade right outside Vintage Bar's door. The public walkway is intended to improve and increase pedestrian traffic around the base area.
"I think that's going to make all the difference for us," Riggio said.
Baldinger said the Torian Plum homeowners association is planning improvements to its public plaza this summer, as well, to coincide with the promenade work.
MVP picking up speed
Wirth said at a meeting last week that members of the base area's decades-old Mountain Business Association voted unanimously to dissolve the association and transfer its $30,000 to an effort announced last fall, the Mountain Village Partnership.
Wirth said the nonprofit organization would boost marketing for base area businesses and event promotion, complementing efforts of Mainstreet Steamboat Springs and the Steamboat Springs Chamber Resort Association. Wirth said the partnership has nine board members including at-large members and representatives from base area "nodes of commerce" including Ski Time Square, Torian Plum, Gondola Square, the Sheraton Steamboat Resort, The Steamboat Grand and One Steamboat Place.
He said membership packets could be distributed to business owners this week. Annual dues would be structured in three tiers ranging from $250 to $1,000 based on annual business revenue. Wirth said a fourth tier of $100 for associate, nonvoting members also would be available.
In return for dues, Wirth said, member businesses would receive the benefits of cross-promotion throughout the base area and would be featured on a Web site that is under development and will display events, business deals and more.
Baldinger acknowledged that it would take time for efforts including the promenade and MVP to bear fruit. He predicted Thursday that base area sales tax revenues will show consistent increases "in two, three years."
Larry Stroman, owner of The Silver Lining Jewelry, Beads and Charms in Torian Plum — and an MVP board member — said he's not sure whether he can afford that kind of time before there is a turnaround.
"I'm just really trying to get an idea what I'm going to do from April 15 to December 15," Stroman said Thursday. "There's just not as many people here. … When the ski season's over, watch how slow it gets."
Stroman said his sales were down about 8 percent this year. That's on top of 10 percent drops in each of the past two winter seasons, he said.
"It's going to be hard," Stroman said about coming months.
But in many respects, despite the hardships, the base area is still the base area. On a sunny Thursday afternoon, a sprawling crowd enjoyed après ski festivities outside Slopeside Grill, where a DJ played tunes and bartenders passed drinks over the ice bar. A similar crowd sat outside T Bar, and skiers and snowboarders shopped and relaxed in Gondola Square.
"We're one of the few communities that has a lot of people excited about changing things in tough times," Baldinger said. "I think that's a big positive that people need to think about."