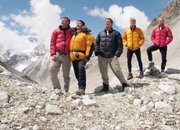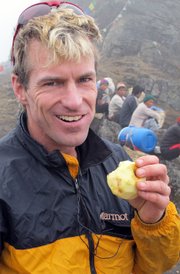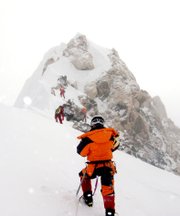 World's tallest peaks
Mount Everest, Nepal/China, 8,848 meters/29,029 feet

K2, Pakistan/China, 8,611 meters/28,251 feet

Kangchenjunga, Nepal/India, 8,586 meters/28,169 feet

Lhotse, Nepal/China, 8,516 meters/27,940 feet

Makalu, Nepal/China, 8,485 meters/27,838 feet

Cho Oyu, Nepal/China, 8,188 meters/26,864 feet
The K2 experience
Eric Meyer's trip to Makalu resulted in several close calls, but he was perhaps in an even more terrifying situation in 2008.
He was high on the slopes of K2, the world's second-tallest mountain, when 11 climbers died.
It was the worst disaster in the history of that deadly mountain, and the story was written by the Steamboat Pilot & Today here and here and many outdoors and adventure publications. Now the tale is coming to books. "No Way Down: Life and Death on K2" was written by Graham Bowley, of The New York Times, and is scheduled to be released Tuesday.
"One Mountain, Thousand Summits: The Untold Story of Tragedy and True Heroism on K2" was written by experienced climber Freddie Wilkinson and will be released a week later.
Meyer plans to travel to New York City to appear on ABC's "Nightline" on July 6 with Wilkinson and other survivors from that climb.
"Nightline" airs at 10:35 p.m. weekday nights on ABC, KMGH Channel 7 and KMGH HD Channel 652 on Comcast.
Steamboat Springs — Eric Meyer said the question is always the same, and it's always first.
"The first thing people ask," he said, his face tightening and twisting to show his discomfort, "is, 'Did you summit?'"
He paused, but only for a second as the clatter of a busy lunch hour in downtown Steamboat Springs rattled around him.
"It's not just about getting to the summit," he continued. "It's about the entire trip, everything you put into it and how it changes you as an individual. It's about the people you meet, not just setting foot on the summit."
He paused again, looking annoyed.
"It's so hard to get people to understand that."
Meyer, a Steamboat Springs doctor of anesthesia and an experienced Himalayan mountain climber, said the sequence he'll never forget — the one that changed him — didn't have anything to do with the summit of Makalu, the world's fifth-tallest mountain and the object of Meyer's most recent death-defying expedition to the far side of the world.
It happened as he slowly climbed down, away from the jagged peak late in the afternoon on May 23, the day his team of friends and clients had made "the push."
He was helping guide a young Sherpa who was making his first assault on an 8,000-meter peak.
Lakpa Sherpa was worried, Meyer remembered, and the pair had made a mistake. Darkness came, and in it, they had drifted off course and away from the route they had fitted with ropes that morning.
They soon found themselves traversing a massive sheet of blue ice, not horribly steep, but terrifyingly slick.
"I told him, 'Pull out your ice ax,'" Meyer said. "He kind of looked for it, thought about it, but kept going. Literally within a minute of that, his crampon just washed off, and he started sliding. He couldn't stop himself at all.
"He was 50 yards away when I lost sight of him."
A mountain to respect
Makalu rises 8,485 meters above sea level, 2,386 above the same high-altitude valley from which Mount Everest and a few of the other of the world's tallest mountains sprout.
Even among such prestigious peaks, Makalu stands out.
"I saw it when I was climbing Everest," Meyer said. "It was one of the first things you could see when the sun came up. That was one of the most beautiful views I had ever had of a mountain, and it stuck with me."
It was first climbed in 1955 by members of a French expedition but has since proven one of the world's most difficult mountains to summit.
Everest, 14 miles from Makalu, was first conquered two years earlier and has since been climbed more than 3,500 times. Makalu has been summited fewer than 250 times.
Makalu doesn't receive nearly the traffic Everest does, but plenty of the discrepancy has to do with the mountain itself. The summit sits atop four razor-sharp ridges that serve as the only avenues for climbers. Even those are defended by crevasses, gaping holes in the terrain that often aren't visible until the thin, snow-covered layers of ice that cover them give way beneath the feet of an unsuspecting soul.
Meyer found two such crevasses the hard way while searching for Lakpa, the earth disappearing beneath his crampons as he wildly swung his ice ax, praying to connect with something solid.
"That's all you can do. It just happens so fast," he said. "All I tried to do is lunge for the edge, to swim, in a way, toward the lip. It's awful. It's like being swallowed by these jaws, by the mountain."
Worth every step
Meyer said Lakpa disappeared down the icy slope before he could react, equipment tumbling from his bag as he flipped head over heels toward a field of crevasses.
He searched for hours, soon joined by good friend Sherpa Chhiring Dorje, who brought Meyer to the mountain to help care for and guide clients for his new expedition service.
Lakpa came from the same small village as Chhiring's wife, and losing the young climber was a devastating prospect to the Himalaya-hardened veteran of 10 Everest summits.
"We searched some more, yelling out his name," Meyer said. "Finally I said, 'I don't think he could have survived. I think he's dead.'"
They finally gave in and worked their way back to their high camp by following a strobe light that had been set to flash throughout the night.
A funny thing happened as they approached, though. A pair of legs stuck unexpectedly from a tent.
"We looked, and lo and behold, there he was," Meyer said, a smile returning as he recounted the events. "It was Lakpa, passed out. He had tumbled, slid down and managed to miss every possible crevasse. He ended up just a couple hundred meters from Camp 4, saw the strobe and in a daze stumbled into camp while everyone else was out looking for him."
It's moments like that, Meyer said, that make a trip halfway around the world to climb — climb, not necessarily summit — a mountain absolutely worth it.
It's moments like that that make Meyer feel he needs to tell an hourlong story to answer a three-word question.
"What do you say when they ask that?" he said, again quiet, leaning back in his chair as Steamboat Springs continued bustling around him. "'Did you summit?' Well, ya know — No. No, but …"