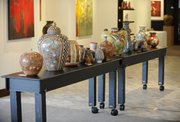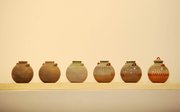 If you go
RED Contemporary will host a reception for Jose Luis Cuevas, deputy consul general of Mexico in Denver, at 5:30 p.m. today at the Sheraton Steamboat Resort. The event is by invitation only, but invitations can be obtained by e-mailing gallery co-owner Susan Schiesser at susanschiesser@co...
RED Contemporary's summer hours are from 3 to 9 p.m. Fridays and Saturdays, 9 a.m. to 2 p.m. Sundays or by appointment. To make an appointment, call 846-7879 or 846-0791.
Steamboat Springs — A visit from the Deputy Consul General of Mexico in Denver will be like a "meeting of old friends" at a reception at the RED Contemporary gallery tonight, Steamboat Springs City Councilman Walter Magill said.
The "Herencia Milenaria: Crafts­­men in Evolution" exhibit is a traveling show of Mexican ceramic art that commemorates the bicentennial of Mexican independence.
The invite-only reception with Deputy Consul Jose Luis Cuevas emphasizes the importance of the intricate ceramics on display.
"When the consulate organizes or helps provide opportunities for an international art exhibition, it's an opportunity to bring international art to Colorado or to Steamboat Springs — a level and quality of art that would probably not be available in a little town like ours," artist Linda Kakela said.
Kakela is a member of the informal Northwest Colorado International Art Committee that works to bring international art to Steamboat. The six-year-old group has brought art to Steamboat in the past, including Diego Rivera's exhibition several years ago.
"We're just a group that gets together and tries to coordinate this friendship between the community of Steamboat Springs and a range of international art opportunities, which include the Mexican consulate, the Canadian consulate, the Swedish consulate …" Kakela said. "We go where great art is."
Magill, who will represent the city at the reception, said Steamboat has a long history of working with the Mexican consulate in Denver.
Integrated Community Exec­utive Director Tatiana Achcar said the group has been very open and inviting toward her organization and its members but that the deputy consul will not provide services to Steamboat residents during this visit. She said the next time the Mexican consulate will provide services in town likely is 2011.
The show will remain on display until Aug. 5 and then goes to Arvada and Colorado Springs.