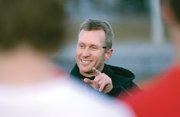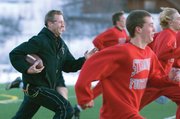 Steamboat Springs — Lonn Clementson is living in his dream location.
On Monday, he landed his dream job.
Steamboat Springs High School Athletic Director Luke DeWolfe confirmed Monday that Clementson has been tabbed as the Sailors' new football coach.
Clementson had been the team's defensive coordinator the past six seasons, working under former coach Aaron Finch.
Finch, who was 52-18 in those six seasons, resigned his position earlier this month to pursue other business ventures.
"I think it's the obvious things," DeWolfe said about why Clementson was hired. "The biggest thing is the success the program has had. We feel it's moved in a good direction and is on track to be in a good direction."
DeWolfe said there was local, regional and national interest in the job. But because the position didn't come with a teaching spot in the district, the pool of candidates was a little limited.
He said school officials formally interviewed two people for the coaching position.
Clementson graduated from Steamboat Springs High School as an all-league defensive back in 1985. He went on to play the same position at Colorado College.
He was a player-coach on a semi-pro team in 1993, before returning as the junior varsity coach at Steamboat in 1996 and 1997.
He then earned his teaching degree at Mesa State College in Grand Junction where he was a graduate assistant under Mavericks head coach Joe Ramunno. Clementson retur­ned to Steamboat as the special teams coach in 2000 and was the defensive coordinator in 2001 and 2002 before taking a year off.
The head coaching position became open the following season, and Clementson and Finch were the two finalists to take over for longtime Sailors coach Mark Drake. Finch .got the job, and he offered Clementson the defensive coordinator position.
"The test is on Friday nights," Clementson said Monday. "But I really believe 80 percent of the game is won before you step on the field. During the week we'll work and we'll have as much fun as possible. Then the game is something you just execute and don't worry about. If you do that, you don't just pass the test, you do well."
Clementson said he didn't hesitate to apply when the job came open again. Finch recommended him.
Clementson said he is excited for the opportunity. His first order of business is summer workouts, including seven-on-seven plans, weight-lifting sessions and a team contact camp sometime in July.
He'll also discussing with his coaches what needs to be done to keep Steamboat competitive in the highly contested Western Slope League.
"There is a lot of work to do," he said. "But I'm excited about kids we have and the staff we have. We're putting this together to be competitive.
"I really do think the sky is the limit in reference to how good we can be. I'm not going to make any predictions other than the fact we're going to have fun and work hard doing it."