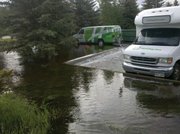 Steamboat Springs — The Yampa and Elk rivers have crested by Tuesday, but forecasters expect the water levels to remain high for the rest of the week.
Hydrologist Bryon Lawrence of the National Weather Service's Grand Junction forecast office, said the Elk River crested at 7.95 feet at about 2:30 a.m. Tuesday, with a flow of 6,340 cubic feet per second. The river is measured where it crosses Routt County Road 42. The flood stage for the Elk River is 7.5 feet, and water is spilling over the banks onto ranchland in several areas.
A flood advisory for the Elk River has been extended until Thursday.
The Yampa River, measured at the Fifth Street Bridge, crested at about midnight and surpassed the high water mark measured Sunday, Lawrence said, with an observed peak of 6.72 feet and a flow of 4,317 cfs. The bankfull stage on the Yampa is 6.5 feet, and flood stage is 7.5 feet.
Tuesday's reading is the second time in the past three days the Yampa River has reached a seven-year high.

Lawrence expects both rivers to now gradually go down.
The high water has not caused any known damage to property, Lawrence said, though the Yampa has flooded several sections of the Yampa River Core Trail in downtown Steamboat.
Help tell the story
Send us your pictures and videos of high water in Routt County by emailing to share@steamboatpi...
People should be cautious when near the river because the cold, fast-flowing water is dangerous and can erode the banks, he said.
"The river is dangerous in terms of people going in or trying to go tubing, or putting on their wings and trying to float down it," he said. "Just a couple of days ago a lot of this water was snow. We always encourage people to use caution when fishing on the banks of the river."
Routt County Emergency Management Director Bob Struble said he again toured the area hit by the high water Tuesday.
"The Elk definitely came up a bunch, but no homes got wet or anything like that," he said.
Struble has received reports of some small areas of road damage from the high water, but no major problems.
Lawrence said the rivers will remain high for the next several days, but cooler weather, especially this weekend, will slow the runoff. Temperatures are expected to range from lows in the 40s to highs in the 60s this weekend.