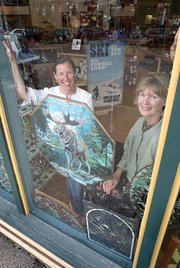 Steamboat Springs — The co-owners of Embellishments have bought The Steamboat Art Co. from Beth and Will Bashan, who owned the eclectic store since 2003.
Embell­ishments' Ashley Edinburg and Melinda Miller — daughter and mother — said they finalized the purchase Tuesday. They will rent the space from the Bashans and said they plan to keep Embellishments open, as well, with cross-marketing between the stores that are about a block apart in downtown Steamboat Springs. Miller said they would keep The Steamboat Art Co. name and the store's staff.
"But at the same time, we'll put our own spin on it," Miller said.
Changes could include opening up the cluttered store by taking down a wall in a back room and improving lines of sight, Miller said. Edinburg said The Steamboat Art Co. has about three times the space of Embellishments — and as much as five times the inventory. While Embellishments has 2,000 to 3,000 items, including gifts and decorations from across the globe, Edinburg said The Steamboat Art Co. has about 11,000 items including crafts, jewelry, artwork, accessories and more. Items in some places are stacked from floor to ceiling.
Finalizing the purchase means the mother-daughter team has a big summer project. Miller said they're still figuring out how to organize and display items. But both women expressed excitement about the idea of using the stores in tandem.
"We're excited that our customers will have two stores to shop in," Edinburg said.
Plans are under way to combine the stores' websites.
Edinburg and Miller opened the boutique Embellishments in December 1998 at 114 Eighth St. The Steamboat Art Co. originally opened in 1975 as The Art Department at 810 Lincoln Ave. The store became The Steamboat Art Co. in 1979 and moved to its current location, 903 Lincoln Ave., in 1988.
Will Bashan said although he and Beth originally intended to run The Steamboat Art Co. together, other business ventures have kept him almost entirely out of the store for the past three years. It seemed like the right time to sell the business, he said.
"We were approached by Ashley and Melinda and Embellishments … and we thought they would be just ideal owners to take over," he said last week. "They've got a lot of great retail experience, they run a terrific business, and there's a lot of synergies between the two stores."
Will Bashan said despite the recession and downtown construction, "the store's doing very, very well, all things considered" and continues to be profitable.
"That doesn't mean we haven't taken a hit like everyone else," he said.
Miller said the recession was a factor in their ability to buy the business.
"If times were booming, we wouldn't have been able to do this," she said.
Will Bashan said he and Beth have no plans to leave Steamboat where The Steamboat Art Co. has strengthened their community ties.
"We've made a lot of great friends through the store, and probably both she and I will miss the people we've had as customers that have become friends," he said. "That's probably the best part about owning a business in Steamboat, is all the people you get to meet and become friendly with. I think we know half the town from owning the store."