What to do during the extra daylight hours
■ Fish
There's no better time of year to toss a line in the area's lakes, experts say. Falling temperatures combined with fading late-day light make fish aggressive and vulnerable. Steamboat Flyfisher offers free fly-fishing casting clinics at 5:30 p.m. Wednesdays and at 10:30 a.m. Saturdays. Call 879-6552 for more information.
■ Run or hike
It's the right time of year for any low-elevation trail, as they will only heat up as summer wears on. A hike to the quarry on Emerald Mountain or to the Uranium Mine near Fish Creek Falls can offer great views of the setting sun and ready-to-sleep Yampa Valley. Yampatika will offer several free early evening guided hiking tours starting later this month. One is a guided tour of the learning center at Legacy Ranch, from 5:30 p.m. to 7:30 p.m. Wednesdays. The other is an exploration of rivers and streams in the area, from 5:30 to 7:30 p.m. Thursdays. Call 871-9151 to sign up.
■ Bike
It's open season for more local trails. Marabou's trails are open to the public until Tuesday, and Emerald's trails are either open or close to being open. Pop on a headlamp and cruise down in the twilight for an exhausting evening workout. Check www.routtcountyri... for updated information on trail openings.
Sunset schedule
Today: 8:24 p.m.
Wednesday: 8:26 p.m.
June 13: 8:28 p.m.
June 16: 8:29 p.m.
June 20: 8:31 p.m.
June 21: 8:31 p.m.
June 23: 8:31 p.m.*
June 27: 8:32 p.m.
June 30: 8:32 p.m.
*A later sunrise makes for a shorter day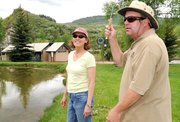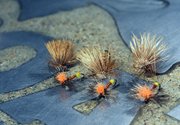 Steamboat Springs — It's called the magic hour, or the golden hour.
The day's hustle has come to a stop and the sun hangs low in the sky, lighting the Yampa Valley with a glow even as the Sleeping Giant prepares for bed.
It's what summer is all about, and in the long days of June, it's a tremendous time to be outside. The summer solstice, the longest day of the year, is approaching. This year, it will be June 21, and there's no shortage of outdoor activities to tackle to take advantage of the year's longest days.
Saddle up
June daylight hours are longer than any other month's, and they're getting longer. Today will be 55 seconds longer than Saturday was. It all comes to a head June 21, when the sun won't set until 8:31 p.m. and won't be gone from the sky until 9:04, making for 16 hours and five minutes of glorious daylight.
That just happens to coincide with the opening of many mountain biking and hiking trail systems in the area.
Gretchen Sehler said she worked Thursday and Friday to ensure that the last of Emerald Mountain's trails were open.
Emerald makes for a great place to take in the evening hours, too. Much of the mountain's singletrack is in trees and thus shaded over as the sun sets, but plenty is exposed, and westward-facing slopes offer tremendous views of Sleeping Giant and the west end of the valley as the sun sets beyond the horizon.
"In this extended daylight, a lot of people will even start out during the day and then come back down at night," Sehler said.
This also marks the only time the public is allowed on the trails at Marabou Ranch. They're open until Tuesday and then will be used Wednesday for the season's first Town Challenge race. The available hours are 9 a.m. to 7 p.m., so they don't make for great evening rides, but it is a unique opportunity.
"It's great out here," Sehler said as she set up the Town Challenge course Friday. "Things are looking really good."
Lace up
The extra daylight means chances for trail hikes and runs, as well.
"June is the magic month," avid local runner Greg Long said.
He helps train members of the Steamboat Springs High School track and cross-country teams, working not just during the seasons, but also all summer.
"Dusk is the most fun time of day possible to run," he said. "We definitely take advantage of it during the summer. We coordinate our runs to be later, and it allows people who work during the day to still get out for long workouts."
He said the long days allow not only longer runs, but also trips to more distant trails.
A favorite is past the Seedhouse campgrounds to the south fork of the Elk River.
Long said he runs there and, thanks to the extra time, even tosses a line in the water to try to catch dinner.
"It's an awesome trail, a really cool mountain bike trail and really cool running trail," he said. "Plus, the fishing there is great."
He said he does the same routine on Mad Creek, one of the area's most popular early season trails.
Yampatika Executive Director Sonja Macys said it's the perfect time of year for trails like Mad Creek and other low-elevation, close-to-town destinations because they will be more difficult when the weather warms up later in the summer.
"The hikes you will want to be doing now are different than the hikes you'll want to do in July and August," she said. "Try to take advantage of trails that are a little more exposed and at a lower elevation."
She said there are several top sunset trails in the area, including the trail to the quarry and Emerald Mountain and the Uranium Mine trail near Fish Creek Falls.
"The Uranium Mine trail snakes back and forth, but there are several points where you can look south out into the valley and get a great look at the Flattops and to where the sunset will be," Macys said. "If you go all the way up to the mine it will be a little obscured, but the views all the way up the trail are spectacular."
Gear up
Not everything has to involve long treks into the wilderness.
The guys at Steamboat Flyfisher said Long was on to something with his appetite for late-day fishing.
It's the wrong time of year to try to flyfish in the Yampa or any of the area streams. The water is just too high and too fast. But Stagecoach Reservoir and Steamboat Lake have recently finished melting off and have become the perfect target for an evening's fishing adventure.
"Trout are cold-water fish, so over the summer they'll be most active when the water is a little colder," Steamboat Flyfisher guide Mark Kershner said. "We tend to go out in the mornings when the activity is highest, then it picks up again in the evenings.
"The best fishing can be from a half an hour before dusk to when it's pitch black and you can't see anything."
He said bigger fish become more aggressive in the fading light. At the same time, the sheen on the water makes it more difficult for them to tell the difference between a tasty insect and a fisherman's well-placed fly.
"At that time there are a lot of bugs in the water and the low-light conditions make trout more at ease," he said. "Their vision is limited as the sun goes down, and they can only see what's right in front of them. Some of the best fishing I've had is often the hour until you can't see anything anymore."
Settle down
Of course, there is plenty to do outside in the extra daylight that doesn't work up a sweat.
"Most of that time gets eaten up watching my kids ride their bikes and play outside in the evening," said Scott Brane, an active Steamboat Running Series competitor and a regular mountain biker. "They are staying outside and getting extra time now that school is coming to a close and just enjoying the great outdoors."
Sehler, too, said as much as she loves an evening loop on Emerald, that's not always her top choice when it comes to a clear, sunny evening with her husband, Marc Sehler.
"Sometimes," she said, "we just like to sit on the porch and enjoy it."