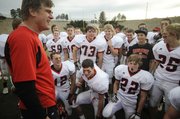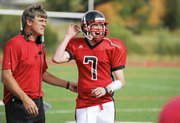 At a glance
Steamboat Springs High School football team under Aaron Finch:
■ 2004-05
4-5, missed the playoffs
■ 2005-06
10-3, lost in the state semifinals
■ 2006-07
10-2, lost in the state quarterfinals
■ 2007-08
7-4, lost in the first round of the state playoffs
■ 2008-09
8-3, lost in the first round of the state playoffs
■ 2009-10
13-1, lost in the state championship game
Baseball coach also resigns
Steamboat Springs High School baseball coach Dave Roy also retired on Tuesday.
Roy, who coached the Sailors for the past six seasons, said he is leaving to spend more time with his family. Junior varsity coach Kellen Baker will take over the program.
Steamboat Springs — Steamboat Springs High School football coach Aaron Finch resigned Tuesday, bringing an end to his successful six-year stint at the helm of the program. Finch cited a number of reasons for his decision, including an interest in pursuing new business ventures.
Finch, who has his master's of business administration from Stanford University, took over for longtime head coach Mark Drake in 2004. Finch previously had served as an assistant coach under Drake.
Finch compiled a 52-18 record in his six seasons, including leading the Sailors to a 13-1 record and appearance in the state championship game in the fall. His teams made the state playoffs in five of his six seasons.
Finch, a former Colorado State University offensive lineman, said now that his two children are getting older — he has a son in college and a daughter who will be a senior at The Lowell Whiteman School next year — he has a chance to take care of some business opportunities he's let pass by in recent years. He acknowledged that no matter what he does, he "goes all in." He knew he couldn't coach football and pursue business ventures at the same time, so he gave up on the coaching.
"The main one is I'm ready to move on to the next thing," Finch said Tuesday. "So within that, I've had a bad case of the five-year itch in my career. Once I overstay my welcome, I'm not as effective."
Finch's tenure as head coach was an unmistakable success. His 2004 team started 0-5 before reeling off four straight wins to finish the season 4-5.
"Those losses were people not buying into his approach that season," said Lane Shipley, who was a sophomore when Finch took over the program. "We hit rock bottom losing to Cortez to go 0-5. After that, we were like, 'Maybe we should buy into him.' I'm glad we did. He's a great coach not just on the field. He's always pushed having good kids, not just good players."
In 2005, Finch led the Sailors to the state semifinals. After three more playoff appearances, this past season may have been Finch's best. Steamboat won its first 13 games of the season and the Western Slope League title before falling to Valor Christian in the state championship game.
And he knew soon after it was over that it would be his last.
Finch said he would sit down after every season around Christmas and decide whether he wanted to return. He said this Christmas he decided to step away.
But with heralded quarterback Austin Hinder prepping to play in the U.S. Army All-American Bowl at the time, Finch decided to hold off on the announcement so as to not take away from Hinder's accomplishment.
Finally, with graduation this past weekend, Finch met with coaches, former players and current players to let them know his decision.
The search for Finch's re­­placement already is under way. Steamboat Athletic Direc­tor Luke DeWolfe said they've had several in-house candidates express interest in the head coaching job. DeWolfe said he and other school officials would spend this week deciding which direction to go, with a target of June 10 or 11 to hire Finch's successor.
"I think the main things are someone who understands the program, probably some of the ins and outs and the uniqueness Steamboat football is about," DeWolfe said. "We definitely want someone who is motivated, energetic and cares about kids."
Finch gave a vote of confidence in Steamboat defensive coordinator Lonn Clementson. Clementson served as Finch's defensive coordinator for the past six years and has a reputation as one of the top assistants on the Western Slope.
"I think Coach Clementson is so prepared and ready to be coach of the program," Finch said. "No question, I wouldn't have had the success without him. Lonn's ready to take it on and do an incredible job."
Finch plans to stay in the area and focus on his business ventures. He said he isn't opposed to getting back into coaching in the future but would like to do so as an assistant.
"The weekly cycle I shared with (the coaches) is the piece I'll miss the most," Finch said. "Second is all the great athletes I got to coach. We've had some incredible athletes come through the last six years."