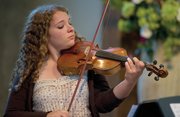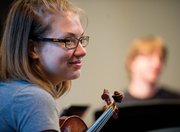 If you go
What: Fourth annual Summer Soiree
When: Cocktails begin at 6 p.m. today
Where: Cottonwood Grill, Seventh and Yampa streets
Cost: $135 per person, includes five courses and wine pairings. Funds will go to help the Rocky Mountain Sum­mer Conservatory provide scholarships.
---
What: Faculty Concert Series
When: 7:30 p.m. Friday
Where: St. Paul's Episcopal Church, Eighth and Oak streets
Cost: $10 suggested donation
---
What: Student Chamber Concert
When: 7:30 p.m. Saturday
Where: St. Paul's Episcopal Church, Eighth and Oak streets
Cost: Free. Donations are accepted, and a reception will follow the performance.
Steamboat Springs — On a hot Wednesday morning at The Lowell Whiteman School, the murmur of a violin solo fluttered across the campus. It represented some of the last notes to be played during the Rocky Mountain Summer Conservatory music camp.
The six-week session draws to a close this weekend, after which 50 students from across the nation and world will return home.
In his eight summers at RMSC, cellist Phil Norman, 24, of Boulder, has found much more than musical instruction in the hills outside of Steamboat Springs.
He said the concept of growing into a balanced, whole person is what drives him to return to the camp each year.
"I'm definitely a better musician," he said. "And I think about being a musician differently than I did before I came here."
In its last weekend of performances, RMSC will host three events, beginning with its annual fundraiser at 6 p.m. today.
The Summer Soiree will feature performances by the conservatory's faculty and students and a five-course meal with wine pairings. Tickets are $135, and the funds will go to help RMSC provide scholarships to music students.
A final faculty concert is at 7:30 p.m. Friday at St. Paul's Episcopal Church. A donation of $10 is suggested.
A free Student Chamber Concert is at 7:30 p.m. Saturday. At the final student showcase, string ensembles will perform works by Franz Schubert and Felix Mendel­ssohn.
However, the students have done much more than rehearse in their time at the camp.
The camp focuses on four main core values, only one of which is directly related to musicianship, founding director Ernest Richardson said.
As a part of the dedication to musical excellence, the students receive private and ensemble instruction and the opportunity to perform about 10 times throughout the session.
But Richardson, who also is the director of the Steamboat Springs Orchestra, said the other three values are focused on training well-rounded, young musicians.
Richardson said musicians often think of themselves as separate from physical athletes, something he wants to change with a focus on physical vitality.

"What's great about being located in Steamboat is that there's this mentality that physical vitality is just a part of what people do," he said. "(Musicians) have to take care of ourselves as if we were athletes."
Students participate in training with a physical trainer and therapist, as well as go on hikes several times a week.

In a culmination of the outdoor classes, a group of 20 students summited Mount El­­bert last week.
"I always love the teachers, and I love hiking," Nor­man said about his yearly stint in Steamboat Springs. "A lot of what the program is about is focusing on more than the musician. In other programs, you'd practice music for 8 hours a day."
Richardson said other focus points involve balancing one's identity as a musician and a whole human being, and vision-directed leadership.
"You can't just force yourself to do something," Richardson said. "If you do, you can really only sustain it for 2 to 3 weeks.
"You have to have a vision that is the greater 'Yes' that burns within."
He cited a number — 10,000 — that researchers maintain is the number of practice hours it takes to achieve excellence in music.
Knowing it's not possible to accomplish that in six weeks, Richardson hopes the camp lays the groundwork for students to discover themselves.
The program also reaches out to the Steamboat Springs community by offering a weeklong workshop for local young strings musicians, called The Steamboat Connection.
Richardson said the program was a way to give back to the arts community that has supported RMSC in its 12 years through donations, attendance at concerts and support of the local arts community as a whole.
"We've gained so much from the community up to this point," Richardson said. "The quality of the music in this community is about as high as it gets. And that's a testament to the folks here."
— To reach Nicole Inglis, call 871-4204 or e-mail ninglis@steamboatpilot.com