By the numbers
Fundraising totals for leading congressional candidates in Colorado's 3rd District. Salazar and Tipton last filed a report June 30. McConnell last filed a report July 21.
Candidate / Raised / Spent / Cash on hand
John Salazar (D) / $1,208,215 / $417,258 / $1,255,711
Scott Tipton (R) / $360,089 / $155,095 / $204,993
Bob McConnell (R) / $156,917 / $132,341 / $24,576
Numbers are based on summary reports filled by the candidates with the Federal Election Commission and may not represent exact figures.
Source: www.opensecrets.org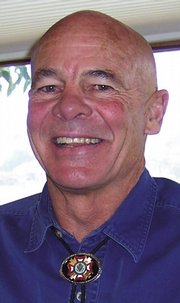 Steamboat Springs — Within 10 days of receiving an endorsement from former vice presidential candidate and Alaska Governor Sarah Palin, Bob McConnell said, he received interview requests from Time Magazine and the RedState conservative news blog, financial contributions from across the country and a huge increase in page views to his website.
"It's been pretty incredible," said McConnell, a Steamboat Springs resident running against state Rep. Scott Tipton, of Cortez, for the Republican nomination for the U.S. House of Representatives.
Tipton and McConnell were on the road Wednesday, campaigning across southwestern Colorado as they enter the home stretch of a primary race that appears closer than many would have expected just a few months ago.
McConnell, a military veteran, former lawyer and self-pro­­claimed "Cowboy Colonel," received about 45 percent of the delegate vote at the GOP's 3rd Con­­gressional District Assembly on May 21 in Loveland. Tipton received about 54 percent. The winner of the Aug. 10 primary will challenge incumbent U.S. Rep. John Salazar, a Democrat from the San Luis Valley, for a seat in Congress.
Tipton could not be reached Wednesday, but he touted his small business experience in a news release. In his second campaign across the Western Slope — he lost to Salazar in 2006 — Tipton holds a huge fundraising lead against McConnell, with more than $204,000 on hand as of June 30 compared with the more than $24,000 on hand McConnell reported July 21.
McConnell implied Wednes­day that the Palin endorsement could narrow that gap.
McConnell said he and his campaign team initially approached Palin through e-mails and phone calls that eventually resulted in outreach from Palin's staff.
"We worked hard for that, and I pursued that endorsement because she represents values that I respect," McConnell said Wednesday. "We need conservative, constitutional leaders."
McConnell said he was in Cortez earlier this month when he got a phone call telling him about Palin's upcoming endorsement. In a sign of the times, it happened on her Facebook page.
"We watched it go live on her Facebook and watched the almost immediate reaction," McConnell said, referring to hits on that website and his. "The feedback has been, 'Wow.'"
Palin endorsed McConnell and Paul Gosar, a candidate for Arizona's 1st Congressional Dist­rict, in a Facebook post July 19.
"Bob knows that in times like these ordinary citizens must be bold and take a stand to return our country back to our Constitutional roots of limited and fiscally responsible government," states the post, which had drawn hundreds of comments and 5,895 expressions of support, or "likes," as of Wednesday.
McConnell said he never has talked with Palin and can't quantify the financial contributions he's received as a result of her endorsement. But it's definitely playing a role in his campaign.
"Gov. Sarah Palin endorsed me for a good reason — I'm the leader in this race," he said in a video on his website that responds to the endorsement.
But McConnell said he's neither done nor seen any polling on which to base that claim of leading the race, where he trails in fundraising and delegate votes.
"My sense of being ahead is just the enthusiasm that continues to roll around me in continuous ways," he said.
Much of that enthusiasm is from the tea party movement, which McConnell has appealed to with his calls for a "massive reduction in federal spending" that could mean abolishing the federal Department of Education, cutting federal poverty programs, ending the Federal Reserve and reorganizing the federal Department of Defense.
McConnell signs off the video with a statement signifying the aggressive tenor of his campaign and message.
"Send Bob to Congress — I dare ya," he says.