For more
First Impressions of Routt County and the Steamboat Springs Chamber Resort Association are hosting a business outreach breakfast from 7:30 to 9 a.m. Aug. 11 at Rex's American Grill & Bar. The meeting will address how local businesses can work with child care programs to help them offset costs. Doing so will help businesses support their employees with children in those programs.
Document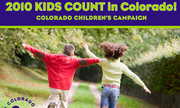 Steamboat Springs — While the number of children living in poverty increased 50 percent statewide from 2000 to 2008, the percentage decreased 13 percent in Routt County, according to a report released Thursday.
The report, the 2010 Kids Count Data Book, an annual report by the Annie E. Casey Foundation, indicated the percentage of Routt County children living in poverty decreased from 7.7 percent in 2000 to 6.7 percent in 2008.
The report is based on 10 measures, five of which improved across the state during the eight-year period. The five measures showing improvement were infant mortality rate, child death rate, teen death rate, teen pregnancy rate, and teens not in school and not high school graduates.
Children living in poverty was one of the three measures in which the state regressed, and by the widest margin.
Two other measures couldn't be compared with the previous report.
Lisa Piscopo, the senior research director with the Colorado Children's Campaign, said it's important to note that the statewide figures released Tuesday don't reflect the impact of the recession. She said the 2010 Kids Count Data Book report for Colorado was based on the 2008 census.
She said the 2009 census update, which would begin to reflect the recession's impact on Colorado, wouldn't be available until September.
"That's why we're so concerned about these numbers," Piscopo said. "It's not new data. What's new is the report that ties all the indicators together."
The statistics for Routt County were released in April as part of the 2010 Kids Count in Colorado, compiled by the Colorado Children's Campaign.
Piscopo said the county statistics were presented in Steamboat Springs in May to an early childhood education and business group to help illustrate the importance of affordable child care for working parents.
Stephanie Martin, early childhood manager for First Impressions of Routt County, helped compile the information that was reported in the 2010 Kids Count in Colorado statistics for the county. She said what jumped out to her was the increase in the number of children who qualify to receive lunches for free or at a reduced cost through the U.S. Department of Agriculture's Nat­­­ional School Lunch Program.
The number of Routt County students eligible for free or reduced lunches has increased to 13.7 percent, according to the 2010 Kids Count in Colorado (reflecting 2008 numbers), from 11.1 percent in 2009 (reflecting 2007 numbers). It's a more than 23 percent increase, but that's not what most concerns Martin.
"There's a perception in the community that a lot of families aren't applying for free and reduced lunches but are eligible," Martin said. "So we feel that number is underreported."
By comparison, 34 percent of the students statewide are eligible for the federal free and reduced lunch program.
Martin said that underreporting is problematic when First Impressions applies for funding through grants and other sources to assist area families. She said the result is that grant providers might think that families in the county are more self-sufficient than they really are.
That brings Martin to her next area of concern.
The presentation in May in Steamboat indicated that a family consisting of two adults, a preschooler and an infant needs to make more than $65,000 annually. About $1,700 a month is budgeted for child care costs.
The county's median income, according to 2008 numbers, was just more than $63,000.