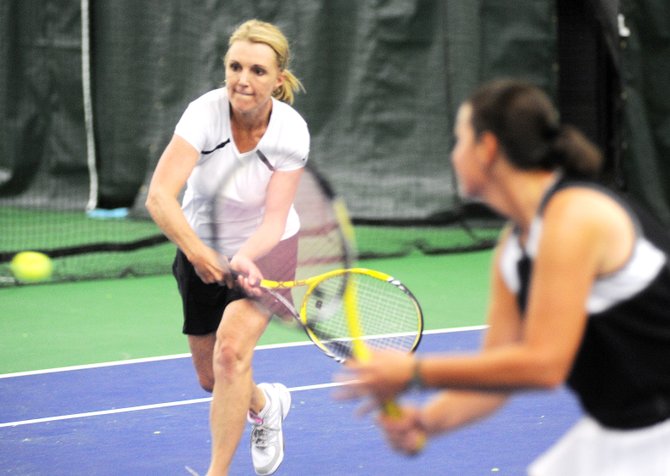 Steamboat Tennis Association event ends Sunday with finals
Steamboat Springs — The Steamboat Tennis As­­sociation's annual tournament wrapped up Sunday with scores of players scurrying through dozens of matches and hundreds of games.
To Vicki Sharp, it all looked like sweet success.
Sharp served as the STA's president about 10 years ago and was active in Steamboat Springs' burgeoning tennis community before moving to Grand Junction six years ago. She returned this weekend, the third consecutive year in which she's made the trip for the tournament.
"We like to come back to support the local scene," Sharp said. "It's gotten a lot better. There are more people playing, more kids and more families. It's great to see."
Sharp played Sunday with fellow Grand Junctionite Kim Jessup, one of 10 friends Sharp and her husband, Nick Sharp, brought from Grand Junction to play in the ever-growing tournament.
The pair faced off against Steamboat players Meg Tully and Becky Lamb in the consolation finals of their doubles bracket. Sharp and Jessup eventually won a drawn-out match, sealing it with a 15-minute final game. But like so many of Sunday's competitors, both sides celebrated the game rather than the score.
"This is always the best tournament of the year," Tully said. "We always have so much fun. We wanted to win, no doubt, but we had a good match. That's what really matters."
Tennis tournaments often turn into bitter affairs of argued points, but Sunday's air was filled more with calls of "nice shot" than "are you serious?"
It attracted the best of Steamboat, young and old, and eager players from throughout the region.
"We thought this would be a good tune-up for a big tournament we all have soon," said Suzie Young, who traveled with three other friends from Laramie, Wyo., for the weekend.
She and Cathy Gorbett dueled Adelle Byra and Deb Olson, also both of Laramie, in the women's doubles 3.0 finals.
"It's been a great time," Gorbett said.
Gorbett, Evan Hessler, Eric Gautreaux, Ian Hessler, Jack Burger, Susan Stempel, Christi Valicenti and Hayden Snyder closed out singles championships Sunday while Gorbett and Young, Stacy Swiggart and Jamey Swiggart, Michael Estes and Suan Ribas, Carol Bender and C.J. Burger, Mark Byra and Rick Colling, Bo Stempel and David Lorenzen, Louis Nijsten and Grice Hooker, Donna Randolph and Marci Valicenti, Carol Bender and Christina Peters, Laurie Buelow and Patrice Lorenzen and Lori Tavarez and Brook Metzler all won doubles championships.
2010 STA Summer Championships results
Sunday
Steamboat Springs
Junior Advanced
Teague Burger def. Tatus Burger, 9-8(7-2)
Evan Hessler def. Madeline Labor, 8-4
Junior Intermediate
Hayden Snyder def. Paula Cooper, 8-1
Hill Atwell and William Majre, 9-8(2)
Combined Mixed 7.0 doubles
Michael Estes and Susan Ribas def. Jeannie Antonucci and Santino Antonucci, 6-2, 6-3
Combined Mixed 7.5 doubles
Ellie Bender and Kyle Rogers def. James Pasterz and Victoria Pasterz, 6-2, 6-1
Combined Mixed 8.0 doubles
Carol Bender and C.J. Burger def. Carolyn Krueger and William Krueger, 7-5, 6-3
Men's 3.0 singles
Mike Schmidt def. Teague Burger, 6-2, 6-0
Eric Gautreaux def. Richard Kassidy, 6-0, 6-0
Men's 3.5 singles
Ian Hessler def. Mark Byra, 6-4, 6-4
Men's 4.5 singles
Jack Burger def. Steve Harrison, 3-6, 7-5, 7-6(5)
Women's 3.0 singles
Cathy Gorbett def Tamy Katthain, 6-4, 2-6, 7-6(4)
Women's 3.5 singles
Susan Stempel def. Lauren Siegel, 6-4, 1-6, 7-6(5)
Women's 4.0 singles
Christi Valicenti def. Valerie Lezin, 6-2, 6-4
Men's 3.5 doubles
Mark Byra and Rick Colling def. John Bender and Steve Diehl, 6-4, 6-4
Men's 4.0 doubles
David Lorenzen and Bo Stempel def. Mario Ibarra and Gi-Heyeon Park, 6-4, 4-6, 11-9
Men's 4.5 doubles
Grice Hooker and Louis Nijsten def. Jack Burger and Greg Sussman, 6-2, 2-6, 10-5
Women's 3.0 doubles
Cathy Gorbett and Suzie Young def. Adelle Byra and Debra Olson, 6-4, 6-4.
Women's 3.5 doubles
Donna Randolph and Marci Valicenti def. Sherry Kammerer and Susan Paulis, 7-5, 6-4
Women's 4.0 doubles
Carol Bender and Christina Peters def. Kate Cooper and Patricia Kreutz, 6-4, 4-6, 11-9
Women's 4.5 doubles
Laurie Buelow and Patrice Lorenzen def. Susie Allen and Fabiola Katthain, 7-5, 6-0
Women's 2.5 doubles
Brook Metzler and Lori Tavarez def. Alie Alexander and Mae Greene, 6-3, 6-3
More like this story