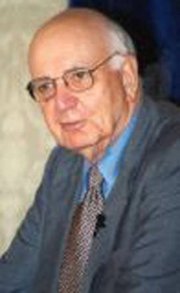 If you go
What: Paul Volcker presentation, Can We Make the Government and the Economy Work for Us?
When: 5 p.m. Thursday
Where: Strings Music Pavilion at Mount Werner and Pine Grove roads
Cost: Free; donations accepted
Online
Read a New York Times story about Volcker's contributions to the recently passed financial legislation here.
Upcoming seminars
■ Aug. 5: Paul Peterson, professor of government at Harvard University and senior fellow at the Hoover Institution at Stanford University: Saving the American School
■ Aug. 12: Joseph Nye, professor of international relations and former dean of the Kennedy School at Harvard University: Smart Power — America's Global Position
Learn more about Seminars at Steamboat at www.seminarsatsteamboat.com.
Steamboat Springs — Paul Volcker's visit to Steam­boat Springs might have as much to do with the fish waiting to be caught in Routt County rivers as it does with the fate of the U.S. economy.
In addition to being former chairman of the U.S. Federal Reserve and an economic adviser to President Barack Obama, Volcker is an avid fly fisherman. He'll speak Thursday at the second event of the summer Seminars at Steamboat series.
"I knew he was interested in fly fishing, so I used that as a hook, no pun intended, to get him out here, and we're excited that he's coming," said Isabel Sawhill, a part-time Steam­boat resident and a senior fellow and economist at the Brookings Insti­tu­tion in Washington.
Volcker will visit Steamboat for the first time, and he's using the trip as a "delayed honeymoon." He married Anke Dening in February.

Sawhill said the seminar Thursday at Strings Music Pavilion would be a moderated discussion during which she'll sit onstage with Volcker, 82, and ask him questions about the economy.
"Basically, what we're going to cover is the outlook for the economy, the assessment of the financial reform bill that just passed and also, I think, how our government is working to address these important economic questions," Sawhill said.
The deficit, the American Recovery and Reinvestment Act and inflation also could come up, she said. Volcker led the Federal Reserve under former Presidents Jimmy Carter and Ronald Reagan, and Sawhill said he is largely credited with reining in inflation during the late 1970s and early 1980s.
But the conversation is likely to focus on broad themes rather than economic intricacies, Sawhill said.
"I think for the purposes of making it meaningful for this community, we want to keep it fairly general, and I'm sure he'll have plenty of interesting things to say," Sawhill said.
Volcker said the conversation would go wherever the questions led it. He didn't seem to expect to unleash any surprising revelations on the audience members.
"They'll certainly take away what they already know, that we have some very great economic and political challenges facing this great country of ours," he said.
Sawhill said she expected that audience members would get straight facts out of Volcker.
"I think he's always been tough-minded and calls the shots as he sees them."
— To reach Blythe Terrell, call 871-4234 or e-mail bterrell@steamboatpilot.com