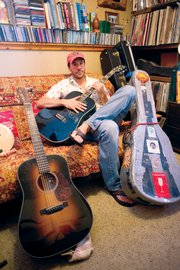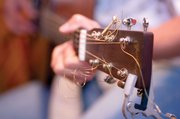 If you go
Upcoming Trevor G. Potter shows:
■ Tuesday at The Boathouse Pub, 9 p.m.
■ Thursday at Rex's American Grill & Bar, 5 p.m.
■ Friday at Mahogany Ridge Brewery and Grill after the Summer Concert Series concert
■ Saturday at the Mainstreet Farmers Market, 11 a.m.
Steamboat Springs — Deep in the barren prairie of South Dakota, Steamboat Springs-based musician Trevor G. Potter stopped at a run-down gas station in the middle of a place called Potter County while on a road trip.
The gas pumps hadn't worked in a long time, struck by lightning in one of the plains' cruel storms. But the station remained, serving as a post office and general store, and a dusty, desolate image of rural America.
Intrigued by the name and struck by the county's poignant imagery, Potter decided to re-create that place in song, painting it with brushstrokes of folk lyrics and accents of minor chords.
"I really like rural American images," he said. "It's just what I've been exposed to."
"Potter County, South Dakota" became the title track on the musician's second studio album, "Potter County and Points Far Beyond," released this summer.
With a 5-month-old son, four to five gigs a week and promotion of other local musicians and venues on the side, Potter has made his passion his livelihood as he forges ahead in his musical career.
This week, he'll play four shows at several venues: a 9 p.m. performance Tuesday at The Boathouse Pub, happy hour at Rex's American Grill & Bar on Thursday, a late-night performance at Mahogany Ridge Brewery and Grill on Friday and a set at the Mainstreet Farmers Market on Saturday.
In his home office Friday afternoon, Potter spoke about the album's conception as American roots and country blues played softly in the background. The influences of countless CDs, vinyls and books stacked around the office give him more than just a head full of melodies and lyrics.
Bob Dylan, Merle Haggard and Willie Nelson all help jump-start the thought process he uses to create his own songs, he said.
"Good lyrics put you in a place," he said. "The words take you to that place.
"I've always been interested in the lyrics. The melodies and the songs, they just enhance the lyrics. I'm not an exceptional instrumentalist or singer, but I think my writing is the strong point."
He said listening to musicians before him bring him to a creative state of mind, in which he's scribbled out scores of music and lyrics yet to be recorded.
"I love listening to music that was recorded in the '20s and '30s," he said. "That music still has value and significance musically and lyrically.
"I'm just hungry. I'm hungry for that satisfaction. You rifle through CDs; you read books. To me, the limitation isn't if it's popular or not."
He said the Steamboat Springs music scene has allowed him to follow the path to recording his new album.
But his career is not limited to playing music on his own. Potter also has focused on expanding the reach of live music by booking and promoting for other local artists and venues.
"Part of what I do is also a lot of booking around town," he said. "It's cool to grow the music scene. I work for the whole. I think it's better to be inclusive than to be exclusive."
And he can be just as inclusive with his music, which features lyrics wrought with faith, memories and archetypal images.
Sometimes, the light guitar picking evokes dark and melancholy pictures. But if Potter is going to tell the American story through his songs, he's not about to leave anything out.

"The dark stuff, it's just a part of life," he said. "We're all on the fence, always walking that line. And hopefully, the good outweighs the bad."
Trevor G. Potter