Photo Gallery
Steamboat Lake Marina wakeboarding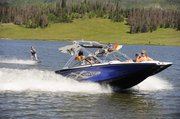 If you go
Area water skiing and wakeboarding options:
Three area outfitters offer wakeboarding and water skiing trips, and all three have identical pricing. A three-hour half-day is $300, and a seven-hour full day is $700. All include a driver for the boat.
■ Steamboat Lake Marina
Steamboat Lake Marina is 26 miles north of Steamboat Springs off Routt County Road 129. For more information about renting the marina's wakeboard boat, visit www.steamboatlake marina.com or call 970-879-7019.
■ Boardom Bound
Danny Tebbenkamp runs Boardom Bound, a company that leads trips on all sorts of outdoor adventures, including wakeboarding, wake surfing and wake kiting. For more information, visit www.boardombound.com or call 970-846-5926.
■ Stagecoach Wake and Ski
Mike Roach runs Stagecoach Wake and Ski and has partnered with the Stagecoach Marina at Stagecoach Reservoir to offer boarding and skiing trips on the South Routt County lake. For more information, visit www.stagecoachwak... or call Roach at 970-846-4643 or the marina at 970-736-8324.
North Routt — Is there an AC/DC song that doesn't go well with wakeboarding?
Maybe, but one didn't pop up on the playlist Friday, and Dave Wittlinger was duly inspired, pumping his fists to "Back in Black" and "Hell's Bells" as he tore around on a wakeboard behind the newest toy available for rent at Steamboat Lake Marina.
Although Wittlinger is the general manager of the marina and grew up water skiing, Friday marked his first ride on a wakeboard. He whooped loudly and grinned widely as he hurtled over the wake, trying to land safely on the other side, and when he finally swam up to the boat and stood exhausted and dripping on the swim deck, he was nothing short of "Thunderstruck."
Perfecting a plan
Karl Bunker, the marina's owner, said adding a wakeboard and ski boat to the rental fleet at Steamboat Lake Marina has long been a part of the plan but was something he and his wife, Bonnie Bunker, only recently decided truly made sense.
For as great a snow skiing destination as Routt County can be, water skiing never has proven easy.
There's only a small window when water sports are possible without the aid of expensive dry or wet suits. The water isn't truly warm until July, and even then, the cold winds of autumn don't seem far off.
"At best, we have 75 days, mid-June through mid-August," Bunker said. "This year, Memorial Day, the ice had just come off the lake. The weather's definitely a challenge, but people still come up."
Getting a boat on the water only is part of the problem. The elevation saps horsepower from boats — Bunker said it's a 3 percent loss for every 1,000 feet of elevation, meaning he's losing about a quarter of a boat's power at the lofty North Routt reservoir as soon as he turns the key.
Still, a steady drumbeat of inquires about a ski or wakeboarding boat prompted the seven-year owner of the marina to consider expanding his business beyond the party-ready pontoon boats and lazy paddleboats that are available for rent.
Bunker found a boat he liked at a dealership in Salt Lake City, a 2005 Mastercraft X-Star that promised enough horsepower to pull anyone, even at 8,200 feet. He found an employee in Maggie Cane, who skied and wakeboarded competitively at the University of Wisconsin-Stout and has taught the sports in the years since. In the constant stream of requests, he thought he found an eager customer base underserved in the Steamboat Springs area.
"We did a lot of research on it and decided to pull the trigger," Bunker said. "We have the scenery, we have the setting, and now we have the equipment."
Endless summer
The boat arrived just a week ago, and after a few days of "figuring things out" Bunker, Wittlinger and Cane gave their new business angle a run for the first time Friday.
With 450 horsepower, 17 speakers, 14 drink holders and eight Steamboaters, they took off around the lake, filling the boat's ballast tanks for wakeboarding, throwing the rope long for slalom skiing and searching for the perfect wave pitch for wake surfing.
"It's really sweet," Cane said. "I love the teaching aspect of water skiing and wakeboarding and was looking for a job where I could do that without it being at a summer camp somewhere. This is everything I could have hoped for."
Bunker said a brief social media marketing blitz already has landed them almost a dozen bookings, and he's confident that his newest ride will prove its worth in no time.
The fee to rent the boat at the lake, 26 miles north of Steamboat Springs on Routt County Road 129, starts at $125 per hour. A half-day, about three hours, costs $300, and a full day of seven hours of skiing, splashing and riding goes for $700.
"It's looking really good," Wittlinger said. "We put up some pictures and did some video. Within an hour, we had a phone call from someone saying, 'I need it this weekend.'"
If all goes well, this could just be the start. Bunker said he plans to start a boat club at the marina. Members would pay $3,000 to $5,000 for two years of access to a wakeboarding boat and a more traditional ski boat.
"The idea is give people who don't own a boat a taste for owning a boat," Bunker said. "It's an easy, clean way to have the feeling of owning a boat."
Much of that's in the future, however, and Bunker said when exactly it takes off all depends on the interest. He wasn't too worried about it Friday afternoon, soaking in the sun as AC/DC blared and his day's riders scurried in and out of the water.
"Just another day owning a boat," he said with a laugh.