Steamboat Springs — Editor's note: This story has been updated to correct the date of the candidates debate. It is 4 to 6 p.m. Sunday at Moonhill Schoolhouse.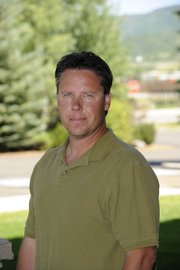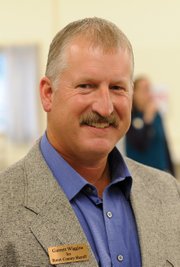 If you go
What: Debate between candidates Nick Bosick and Garrett Wiggins
When: 4 to 6 p.m. Sunday
Where: Moonhill Schoolhouse on Routt County Road 129 in North Routt County
Learn more
On Facebook, both Republican Routt County sheriff candidates have fan pages. Visit the page for Garrett Wiggins and Nick Bosick.
The two will debate from 4 to 6 p.m. Sunday at the Moonhill Schoolhouse on Routt County Road 129 in North Routt County, and again Wednesday on Steamboat TV18.
Primary information
The Aug. 10 primary is an all-mail election. Registered Republican voters, even if they are marked inactive, will receive a ballot from the Routt County Clerk and Recorder's Office. According to the Clerk and Recorder's website, ballots will be mailed starting today.
Campaign signs are sprouting beside the roads in rural Routt County, right alongside the summer wildflowers. It's campaign season again, and two Republicans are stepping up their efforts to win the primary for Routt County Sheriff's Office.
Nick Bosick and Garrett Wiggins have started traveling across the county to meet voters and make their case about why their experience makes them better suited for the job. The winner of the Aug. 10 all-mail primary will face incumbent Democrat Gary Wall in the general election in November.
The first debate between the candidates, both employees of the Steamboat Springs Police Department, will be from 4 to 6 p.m. Sunday at the Moonhill Schoolhouse on Routt County Road 129 in North Routt County, at a meeting organized by B.J. and Chuck Vale. The candidates will again meet Wednesday for a debate hosted by Steamboat TV18. That show will be broadcast later on the station and posted to www.steamboatpilot.com.
The timetable for the broadcast hasn't been finalized.
Wiggins, the commander of the All Crimes Enforcement Team, and Bosick, detective with the Police Department, have similar experience, and in some cases, similar ideologies.
"Nick and I haven't gotten together to talk about our philosophies, but I think our philosophies are probably pretty similar," Wiggins said.
In separate interviews, the candidates said they would like to expand the reach of the Routt County Sheriff's Office farther into the county, instead of focusing on Steamboat.
Bosick said he would like to see the deputies outside of Steamboat's city limits more often because Steamboat has its own police force, and residents in other parts of the county are asking for more service.
"When their majority of time is spent within the city limits of Steamboat, that is not what they need to be doing," he said.
Bosick said he would like to establish substations for deputies across the county where they would spend a certain percentage of their time. He said that by creating agreements with agencies such as the North Routt Fire Protection District and the town of Yampa, deputies could have remote offices with regular hours for residents to contact them.
"I think that's going to serve the purpose a lot more than everybody res­­­­­­­­­ponding from Steam­boat and hanging out waiting for a call," he said.
Wiggins said he, too, would like to reach out to the rural communities in Routt County.
"I think it's vital we have an open line of communication with our community and we have some type of way to accept or talk about input … and any programs they want or any advice," Wiggins said.
He said he would like to create a website that would allow for either signed or anonymous comments from the public for the Sheriff's Office to review.
Experience
When asked about the major differences from their opponent, Wiggins and Bosick said their experience puts them in the lead.
"I have about 10 years more experience in law enforcement than he has, and I've worked in other areas of our nation" that have higher crime rates, Wiggins said.
Bosick asks voters to direct their questions to him.
"That is one of the probably biggest questions people ask me when I start talking to them, and for the most part, I try to respond to that by saying, 'Sit down and talk with me and ask me what I've accomplished in my career and what my vision is for the Sheriff's Office, and do the same with Garrett," Bosick said. "Even though we both work for the same agency, there are a lot of differences in what we've accomplished and what we've done in our law enforcement careers."
Bosick was a patrol sergeant with the Police Department, and he said he oversaw about eight officers during that time.
Wiggins said his current staff is small — he oversees a handful of officers with ACET — but when he was working as a manager with Swisher International, he oversaw a staff of 55 to 70 people. Swisher makes cigars and other tobacco products.
Winning support
Bosick petitioned his way on to the ballot after he failed to get the required number of votes at the Republican Assembly in April. Bosick said that even though he won just 12 percent of the votes at the assembly to Wiggins' 72 percent, he thinks he can pick up people who might not be the core of the party.
"I do believe the Republican Party, the independents and a significant number of Democrats, are supporting me," he said.
Although only Republicans can vote in the primary, Wiggins said he's not expecting a landslide either.
"I think the primary is going to be a lot closer than that," Wiggins said.