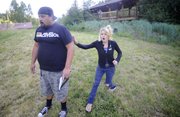 Schedule
■ Today, "Into the Woods," 6 p.m., Spring Creek Park
■ Saturday, "A Midsummer Night's Dream," 6 p.m. West Lincoln Park
■ Sunday, "Colonisation, a Gentleman's Guide," 6 p.m. Spring Creek Park
■ Wednesday, "Into the Woods," 6 p.m., Bud Werner Memorial Library
■ July 16, "Into the Woods," 6 p.m., Spring Creek Park
■ July 17, "A Midsummer Night's Dream," 6 p.m., Spring Creek Park
■ July 18, "Colonisation, a Gentleman's Guide," 6 p.m. Spring Creek Park
■ July 21, "A Midsummer Night's Dream," 6 p.m., Yampa Valley Botanic Park
■ July 23, "Into the Woods," 6 p.m., Spring Creek Park
■ July 24, "A Midsummer Night's Dream," 6 p.m., Spring Creek Park
■ July 25, "Colonisation, a Gentleman's Guide," 6 p.m. Spring Creek Park
Steamboat Springs — While Stuart Handloff was attending graduate school at the Toi Whakaari New Zealand Drama School, he noticed similarities between the Kiwi culture and that of his hometown of Steamboat Springs.
In particular, he was with people who shared values and a love of the outdoors.
"They have that same sense of community and connectedness," Handloff said.
In an effort to fuse the two cultures and their theatrical practices, he began the Piknik Theatre Festival three years ago, bringing together professional performance artists from New Zealand and local talent to put on a series of outdoor productions at local parks.
The third annual festival kicks off at 6 p.m. today in Spring Creek Park with a performance of Stephen Sondheim's "Into the Woods," a family-friendly musical that intertwines several traditional fairytales in a story of personal growth and morality.
The series also includes William Shakespeare's "A Midsummer Night's Dream," and an original piece, "Colonisation, A Gentleman's Guide."
Performances take place at 6 p.m. at various local parks on Fridays, Saturdays and Sundays throughout the month.
Dogs, blankets, families and picnicking are welcome.
Handloff, who directs "Into the Woods," said an outdoor setting fits the local culture.
"People like to do stuff outside," Handloff said. "We're taking theater out of the box to where the people are, and not taking people into the box."
The audience won't be the only people drawn outside the box by the Piknik Theatre Festival.
At a rehearsal Wednesday, several teaching moments emerged among New Zealanders and area youths who auditioned for the festival.
Jake Rosendale, 16, of Hayden, said he auditioned this year because of the opportunity to expand his horizons beyond his school's drama program.
"I had the time of my life when I did it last year," said Rosendale, who plays the steward in "Into the Woods." "It's such a cool idea, bringing people from New Zealand."
"We love the Kiwis," added Chelsea Marie, 15, who plays an evil stepsister in "Into the Woods."
Bronwen Pattison, one of six New Zealand performers living in Steamboat Springs during the festival, said working with actors of all levels of experience is rewarding.
"That's the cool thing," she said. "But then you have people like Nora (Corser, of Steamboat Springs) who's 14, and she's just amazing. I feel like she puts me to shame."
Nora plays Little Red Riding Hood in "Into the Woods," which also features Jack in the Beanstalk, Cinderella and an evil witch.
Iain Grant, 11, who plays Jack's cow, Milky White, said the community likely will enjoy seeing an up-tempo show in an outdoor picnic atmosphere.

"It's a great setting to see a show," he said about Spring Creek Park. "I mean, it's 'Into the Woods,' and there's woods right behind us."