Document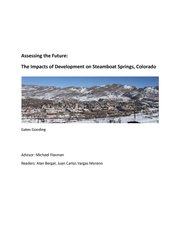 Steamboat Springs — Gates Gooding is walking a little lighter these days.
The 27-year-old Steamboat Springs native recently completed graduate school at the Massachusetts Institute of Technology where he studied urban and environmental planning. A significant component of earning his graduate degree — and another load off his shoulders — is Gooding's thesis, "Assessing the Future: Impacts of Development on Steamboat Springs, Colorado." The hefty document assesses local growth scenarios and potential impacts of development in the area. Gooding collected data for the thesis during the heart of the Steamboat 700 annexation debate earlier this year when a crowd of about 140 filled Olympian Hall in Howelsen Hill Lodge on a January evening to give their opinions about how, or whether, the city should grow.
Gooding said there are "several layers of conclusions" in his thesis, which measures how future growth-related scenarios would affect community values ranked by residents in Olympian Hall. The final report also analyzes the visual survey those residents took, during which they ranked images of area locations according to preference. At the top of the list were images of natural settings on the Yampa River and Sleeping Giant. An image of a local business earned the lowest ranking.
"My professors took one look and said, 'Oh, that's really in support of infill.' With infill, you're just adding to where people already don't like what they see," Gooding said. "My adviser told me that this was the first live planning process that he had ever seen in a master's thesis."
Infill, or development within current city limits, has been a topic of conversation among city officials and planners since local voters strongly rejected the Steamboat 700 annexation in March.
Gooding said the relative availability of space and units in Steamboat — and a willingness, cited by 40 percent of participants at Olympian Hall, to allow another home between them and their neighbors — lends itself to the idea of infill.
"From my perspective, there's no specific need to build outside city limits," he said.
Gooding said he edited the thesis a final time before releasing it to the public — well after he had turned it in to professors.
"I wasn't really writing this for the degree, I was more writing it for Steamboat," Gooding said, citing a hope that residents take a little time to read his work and think about the scenarios it explores.
Jonathan Spence, interim director of the city's Department of Planning and Community Development, said he plans to take that time.
"I think that, definitely, it'll be one more document that will further assist us in making decisions," Spence said. "I look forward to seeing it."
Spence said members of the Area Plan Coordinating Com­mittee already have discussed using Gooding's thesis in their conversations. The committee includes city and county elected officials, planners and planning commission members.
Gooding acknowledged that Steamboat 700's defeat and the economic recession could put growth discussions on the back burner but, in his opinion, now is the time to plan.
"We'll see how much energy is left after the Steamboat 700 thing died down," Gooding said. "A lot of people feel like no one cares anymore."
As a recent graduate, Good­ing has some planning of his own to do.
"I'm trying to decide where to go with my life," he said last week at Amante Coffee in Wildhorse Marketplace.
He said he's had a few job offers but is thinking about turning them down because they're "city desk jobs." He and a few friends are exploring the idea of setting up a nonprofit organization that would work internationally, in a model similar to Doctors Without Borders but with community planning services — "Planners Without Borders," he said.
"It seems like after graduation, a lot of the idealism that you have in school dies," Gooding said. "I'm just trying to figure out how to keep it alive."