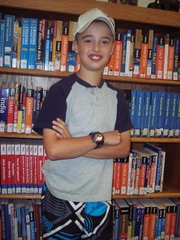 Hayden — The Hayden Public Library proudly announces that Dustin Sullins is the Reader of the Week. Dustin is 11 years old and will be a sixth-grader at Hayden Middle School in the fall. His parents are Shanda and J.D. Sullins, and he has a 6-year-old sister, Ashlyn.

His best friends, who he says "will always be my friends" are: Jay Carrico, Tyler Hockaday and Alex Hamilton. Dustin says he enjoys talking to his friends in class during school. He says he enjoys all subjects in school "except social studies."

The family pets include Danner, a German shorthaired pointer, and Carlos, a teacup chihuahua. His pet is a bearded dragon lizard named Sparticus "who is very fast!"
Dustin's favorites include: blue or black for colors; golfing for sport; and for food, he says he loves all food (except for broccoli, which he says most children don't like). In his spare time, he enjoys playing games — sometimes with his sister. When asked whether he had advice to other readers, he said, "If you really, really like a book and you're waiting for the next one (a sequel): that's your book!" Dustin plans on becoming a NASA astronomer when he grows up.

When asked how he felt about being chosen Reader of the Week, he said he felt "tired because his mom woke him up to tell him." Dustin said that his favorite book is the "Percy Jackson" series by Rick Riordan, and he is reading "The Titan's Curse."