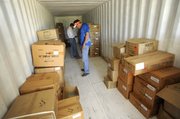 Past Event
Sunday, July 4, 2010, 9:30 p.m.
Howelsen Hill, 845 Howelsen Parkway, Steamboat Springs
Not available / Free
Thanks to the crew
The city of Steamboat Springs would like to acknowledge and thank in advance the 2010 Volunteer Fireworks Crew: Bill Petersen, Scott Borden, Paul Ferguson, Todd Fellows, Karl Fredell, Tim Knoebel, Brad Williams, Vicky Heil, Tim Borden, Scott Ptach, Ed Patalik, Tom Ptach, Russ Atha, Mike Brewer, Sylvan Kaufman, Troy Strickland, Eddie Robison, Charlie Williams, Fred Solheim and Hunter Solheim.
Fireworks safety tips
■ It is illegal for anyone younger than the 16 to purchase fireworks.
■ The fireworks permissible in Routt County include sparklers, fountains and ground spinners.
■ Fireworks that do not explode or leave the ground are legal in Colorado, but remember, even legal fireworks burn at high temperatures and can ignite clothing easily; always keep children away from fireworks.
■ Firecrackers, rockets (including bottle rockets), Roman candles and mortars are not legal anywhere in Colorado.
■ Never relight fireworks that have gone out; they still could be live and go off unexpectedly.
■ Establish a safe viewing area away from houses and shrubbery; never light fireworks inside.
■ Fireworks of any kind are illegal on U.S. Forest Service and Bureau of Land Management lands.
■ For more information or assistance in preparing for a safe Fourth of July celebration, call Steamboat Springs Fire Rescue Mountain offices at 879-0700 or 879-7170.
Source: Steamboat Springs Fire Rescue
Steamboat Springs — In a year when some Colorado communities are scaling back or outright canceling their Fourth of July fireworks because of tight budgets, Sunday's show in Steamboat Springs looks to be bigger than ever.
The fireworks begin at 9:30 p.m. Sunday over Howelsen Hill. The 18-minute show will be choreographed with a live simulcast of music on KBCR, at 96.9 FM. Because of Howelsen's elevated launch sites, good viewing spots can be found across downtown, in some areas on Mount Werner and, of course, at the base of Howelsen Hill itself.
Tim and Scott Borden said this year's show will use five launch sites, more than before. Launch sites have been slightly shifted to the south on Howelsen Hill, Scott Borden said, in an effort to give more exposure to viewers near Mount Werner.
"We're actually right above Brooklyn," Scott Borden said. "It's kind of like the town forms a horseshoe (around the launch sites)."
Residents are encouraged to watch the show from home. Those who travel to Howelsen Hill are encouraged to take Steamboat Springs Transit's free buses or park at the Stock Bridge Transit Center and walk to Howelsen Hill on the Yampa River Core Trail.
Transit Operations Manager Jonathan Flint said Steamboat Springs Transit will run several extra buses Sunday to transport people to and from the fireworks show. The extra buses will offer service to the Mount Werner area and to Steamboat's west side, he said.

Flint said extra buses also will be available during the day Sunday to help bring people to and from downtown for the parade and other Fourth of July events.
Cyclists are encouraged to have a light on their bike, especially when riding on the dark, crowded Yampa River Core Trail after the fireworks show.
On Wednesday morning, the Bordens surveyed stacks of fireworks they have stored in North Routt County. Tim Borden said this year's show will pack its 18 minutes with a lot of action, including a couple of really big blasts.
The Bordens are planning to launch two massive "chrysanthemum" fireworks — 16 inches in diameter, weighing more than 50 pounds and costing about $900.
Tim Borden said the chrysanthemums were acquired through a supplier in Pennsylvania and reach a height of 1,000 feet.
Larry Schnackenberg, fire inspector for the city of Steamboat Springs and member of Steamboat Springs Fire Rescue's fire prevention division, said his division has worked with the Bordens to approve the pyrotechnics and select launch sites.
Tim Borden said 40 volunteers are involved in this year's show, which he noted is "not costing the city a dime more than any other year."
The city is again contributing $12,000 from its general fund for the fireworks, which also are funded with $12,000 from six corporate sponsors — Native Excavating, Ace at the Curve, Steamboat Resorts, MyWireless, TIC and Yampa Valley Bank.
Scott Borden said an extra $10,000, won by Steamboat Springs in Liberty Mutual's
Bring Back the 4th contest should make the finale "quite a bit bigger" this year.
Brian Harvey of KBCR said he was finalizing the simulcast playlist Wednesday.
"It's definitely high-energy, fast-paced, and it will be stretching across all genres of music, from rock to country and everything in between. It's going to be a fun one," Harvey said. "If everything goes to plan, this should be a really, really good show, both visually and sonically."