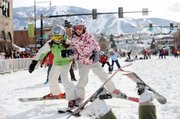 Street events
■ Ring and Box (ages 6 to 9) — Horse pulls skiers who must drop rings into a washtub.
■ Ring and Spear (ages 6 to 9) — Horse pulls skiers who are holding a spear and trying to collect five rings suspended from stands.
■ Skijoring (ages 6 to 9 and 10 to 14) — Horse pulls skiers through flat course down the street.
■ Street slalom (ages 6 to 9 and 10 to 14) — Horse pulls skiers through slalom course of cones.
■ Donkey Jump (ages 6 to 9 and 10 to 14) — Horse pulls skiers as they jump a 2-foot ramp.
■ Shovel Race (ages 18 and older) — Adults sit in any type of shovel and are pulled by galloping horses.
■ 25-yard Dog Dash (ages 5 and younger) — Children are pulled by the family dog to the finish line. A parent or dog owner leads the dog.
■ Dad Dash, during which dads pull the sled on all fours (sled cannot have metal runners).
■ Children's Dash (25-yard dash, ages 3 to 5; 50-yard dash, ages 6 to 8; 75-yard dash ages 9 to 11).
■ Three-legged Race (ages 5 to 8 and 9 to 11) — Two people on skis tie their legs together (ties provided) and race to the finish line.
■ Obstacle Course (ages 5 to 7, 8 to 10 and 11 to 14) — Skiers maneuver around obstacles and race to the finish line.
Steamboat Springs — The Winter Carnival is annually a good place to find some of the craziest events Steamboat Springs will see all year, and Lincoln Avenue during the Saturday and Sunday street events is usually the best place to find the craziest events of that crazy week.
Throughout the years, people have managed to try to do just about anything possible on snow, and the best of those efforts take place down the town's main street, Lincoln Avenue, all weekend.
The events run from 9 a.m. to noon Feb. 6 and from 9 to 11 a.m. Feb. 7.
The existence of skis in Steamboat Springs seems natural, even in the years before Steamboat Ski Area began operating. The then-massive planks at times offered the area's residents the only way to get around when the powder started dumping from the sky.
Many of the Winter Carnival street activities, meanwhile, lack that same element of usefulness and logic. In fact, some seem downright designed to be the most difficult and/or dangerous way to accomplish a task.
Take the Dad Dash, for instance. Dads pull their children down the street on all-fours, to the immense amusement of the hundreds of tourists, friends and neighbors gathered on the sidewalks. The hitch, the sleds can't have metal runners.
Events such as skijoring seem to have a place in the Yampa Valley's past. In a pre-four-wheel-drive era what's an easier way to get around than simply strapping on skis? The answer is of course strapping on skis and grabbing hold of a rope attached to a galloping horse. In Steamboat, it's not brave men in crash suits that sign up, it's children from ages 6 to 14. That event, split into two age groups, has two variations. One tasks skiers and snowboarders with swinging around a series of cones set up as a slalom course while the other adds in the not-insignificant aspect of a 2-foot jump at the end of the line.
Other ski-behind-horses events involve the Ring and Box event, in which children drop rings in a bin and the Ring and Spear, in which children try to hook five rings with a long spear.
Then there's nothing like the shovel race. Contestants ages 18 and older ride shovels down the street, clinging for all they're worth to a rope attached to a charging horse.
Other events include the 25-yard Dog Dash, like the Dad Dash but with the family pooch replacing dear ol' dad; the Children's Dash, which is a 25-yard race; the three-legged race for ski-wearing children from ages 5 to 11 and the Obstacle Course, designed to slow down children ages 5 to 14 as they rush, with skis on, toward the finish line.
For the horse events, the Steamboat Springs Chamber Resort Association usually has a limit of 20 to 30 participants for each event. Non-horse events, such as the three-legged race or 50-yard dash, are open to as many people as want to participate, depending on time. The only adult horse race, the shovel race, has a limit of five so the horses don't get tired.
All participants also must have a Winter Carnival button, which can be purchased for $7 at the Steamboat Springs Winter Sports Club offices, participating downtown merchants and the Visitors Center. The events for children fill up quickly. The Chamber asks that participants be at the registration table 15 minutes before their event starts.
To register for any of the events, call the Chamber at 879-0880.