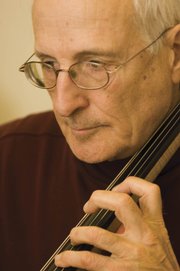 For more
Learn more about "The Day I Almost Destroyed the Boston Symphony and Other Stories" author and Steamboat local John Sant'Ambrogio here. The book is expected out in late March or early April; pre-publication ordering is open on the Web site.
Steamboat Springs — John Sant'Ambrogio des­troyed the Boston Symphony once. In the more than 40 years of his career that followed, he destroyed the St. Louis Symphony three times.
"Then again, I played maybe 8,000 or 9,000 concerts, and I only screwed up four times, which is not that bad," Sant'Ambrogio said.
Those four blunders and the stories leading up to and around them in Sant'Ambrogio's life of classical music are chronicled in the Steamboat transplant and cello player's upcoming book, "The Day I Almost Destroyed the Boston Symphony and Other Stories."
"It goes behind the scenes to what's happening in the orchestras, and my motivation is to show people how wonderful an orchestra is," Sant'­Ambrogio said about the book, which is going through its final edit and is expected out on the Santa Bar­b­ara, Calif.-based Nebbadoon Press in late March or early April.
Driving through California on Fri­day, Sant'Ambro­gio recounted over the phone some of the stories that have shaped his career as a cellist for the Boston Symphony, principal cellist for the St. Louis Symphony and a semi-retired musician in Steamboat Springs.
"Mostly, what I'm trying to do is inspire other people that you can do it — if this guy was able to do it, you can do it," Sant'Ambrogio said. He also said he hopes the book, which he wrote about 12 years ago, gives a sense of "how exciting classical music can be, or any kind of music by an orchestra."
Among Sant'Ambrogio's stories are performance errors that could have brought some of the world's finest classical institutions to a jumbled halt on stage. There's an account of a trick Yo-Yo Ma once played on him and a recounting of the last concert for an ailing composer.
As Sant'Ambrogio follows a career that started with two years in the Seventh Army Sym­phony, jumped to nine years with the Boston Symphony and officially ended after almost 40 years at the helm of the St. Louis cello section, he keeps close a story of struggle and eventual failure or triumph for the organizations he knew and worked for.
Some of those stories don't end well, but the most central plotline for Sant'Ambrogio — the story of the St. Louis Symphony — seems to be one of a few that's on an upswing, he said.
"There are things I did not put in the book because I wanted to focus on the positive, the humorous, the brave," Sant'Ambrogio said. "I wanted to focus on those things and not on other things because the end of the result of the terrible turmoil … was a positive thing. … Everybody pulled together and made compromises to save the orchestra."
Once the book is on sale, Sant'Ambrogio hopes to share his history and lessons in book events paired with classical performances. He'd like those events and his book to show a sunny side of classical and orchestra music, and "how much fun it can be and how inspiring it is," he said.
"The Day I Almost Des­troyed the Boston Sym­phony and Other Stories" reflects a long career and one that's not quite over. Sant'Ambrogio is principal cellist for the Steamboat Springs Orchestra and continues his involvement with various music festivals.
"I don't even know how so many incredible things happened to me in my life," he said about the stories in his book. "But they did, and I thought I should tell people."